Volume 5, Number 1 – January 2011
Some documents are made available in PDF format. You will need Adobe Reader to view them.


[ PDF version for viewing, 1.8M ]

Director's Message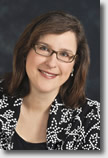 Melissa S. Tooley,
Center Director
How do we best define the outcomes of the UTC program? There are obvious benefits — UTC research yields better ways to plan, design, build and maintain the transportation system. Of equal importance is technology transfer, which ensures that the lessons learned from UTC programs reach potential users.
However, it sometimes seems that the education component is taken for granted. All UTCs have graduate students working on research projects, and many include undergraduates as well. UTC research serves as a catalyst for graduate students, providing the academic and financial resources they need to pursue advanced degrees.
One beneficial characteristic of the UTC program has not been emphasized enough, and that is the geographic distribution of the program. There are 60 UTCs nationwide, some of which are consortia, so the total number of universities involved is even higher. They are located throughout the nation — from Alaska to Florida and from Boston to Los Angeles. This coverage provides opportunities for students across the country to become involved in transportation research. The profession benefits from the diverse perspective of these students, drawing on varying experiences and cultures. We need the ideas of students from rural states and urban areas, from those who grew up riding the subway to school and those for whom the nearest grocery store is 45 minutes away on two-lane rural highways.
The transportation needs of this country are going to be addressed by the next generation, and I am glad they are being trained by UTCs that are diverse not only in their mission and focus areas but geographically. This is required to develop the broad perspective essential for addressing tomorrow's transportation challenges. Two of the best and brightest are spotlighted in this newsletter – Yao Xing and Susie Edrington – and there are many more like them graduating every semester with the support of UTCs nationwide. It is my hope that we have the opportunity to continue this important mission after the passage of the next reauthorization bill.
Educationally yours,

Melissa S. Tooley
[ Top ]
UTCM, TTI to Again Host Annual Meeting on Mileage-Based User Fees

Registration is now open for the 3rd Annual Symposium on Mileage-Based User Fees. The meeting will unite professionals across the field of road user fees to share experiences and advance the discussion of usage-based fee systems. Representatives from past, current and upcoming pilot studies and implementations will present lessons learned and key study topics from their projects. Panel discussions will address specific topics such as legislative and policy issues, public acceptance challenges, potential technology applications, and institutional issues. The third annual symposium will also incorporate lively discussion sessions on logical next steps and associated challenges and opportunities.
For information or to register: http://utcm.tamu.edu/mbuf
[ Top ]
SPOTLIGHT ON EDUCATION:
UTCM Graduate Assistant Stacks Boxes from a New Angle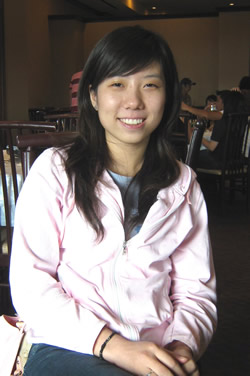 Texas A&M University PhD student Yao Xing is completing her second year as a UTCM graduate assistant.
Yao Xing is earning a PhD in Civil Engineering from Texas A&M by solving puzzles. Not Rubik's cube or Sudoku, but her work in designing algorithms that optimize sequences could be used in these games — better sequence strategies solve them faster. Instead, Yao puzzles over the movement of shipping containers. "Containers have to be loaded onto a ship in a certain order, and that's never the order that they are sitting in the yard. So the cranes in the port yard spend a lot of time rearranging stacks of containers to get to the next one in the load sequence."
Ideally, containers on one vessel would be unloaded into the yard in the reverse order that they would be reloaded onto the next vessel - eliminating the need for the cranes to reshuffle them. But factors such as weight, stability and safety impact the ideal unloading order. "My research is about coming up with the best optimizing strategy," says Yao. She works under the supervision of Dr. Luca Quadrifoglio, Assistant Professor in Texas A&M's Zachry Department of Civil Engineering, and she is supported by an independent graduate assistantship from the UTCM.
Most of the existing research focuses on optimizing storage strategies in the yard, but Yao is attempting to solve the problem at an earlier step – during the unloading process at the quay. "Quay cranes can handle containers roughly twice as fast as yard cranes, so we're looking to optimize sequences at the unloading stage, rather than in the yard."
The conserved yard crane time can then be spent serving truck fleets picking up containers for distribution, which improves overall traffic flow in the terminal.
What's more, this type of optimization algorithm could be applied in many areas of transportation, from traffic light queues to demand-response transit scheduling.
Growing up in China, Yao's grandfather was a port crane operator, and so she spent time as a child watching her grandfather's cranes at the port load and unload ships. With her doctorate from Texas A&M, Yao hopes to carry on the family tradition of working with port cranes. "In a way, I hope to help make my grandfather's hard work more productive. I think he would like that."
[ Top ]
SPOTLIGHT ON RESEARCH:
Website to Outline Strategies in Use for Active Traffic Management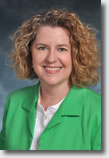 UTCM Researcher Beverly Kuhn
Project Title: "Best Practices and Outreach for Active Traffic Management"
Principal Investigator: Beverly Kuhn (Division Head, System Management Division, Texas Transportation Institute)
The nation's highways are getting smarter. High-tech overhead signs in some states can now display variable speed limits, lane status, expansion of traffic to shoulders and real-time traffic information so drivers know what's happening ahead, as well as how fast to drive and what lanes to use. This smarter highway technology is one aspect of Active Traffic Management (ATM), or designing roadways that proactively help drivers travel safer and more efficiently.
"ATM is about advance warning," says Beverly Kuhn, Head of TTI's System Management Division. "Knowing what's coming up can help drivers approaching traffic to slow down and pass through a problem area at a slower but more consistent speed, reducing both stop-and-go traffic and the associated risk of accidents."
In a UTCM study, Kuhn and her team are amassing data on ATM in use on the nation's roadways. A website and introductory webinar will be launched in March, providing data on ATM use across the nation and the globe, identifying implementations, test sites and best practices. "There's a lot of data available, but there's no central clearinghouse for information on who's using what on their roadways and how well it's working," explains Kuhn.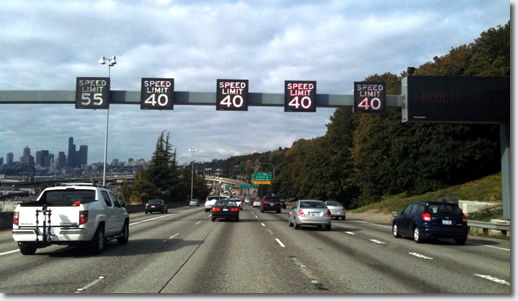 How do variable speed signs work? Traffic sensors or cameras along the roadway collect data on traffic speeds, identifying events such as temporary bottlenecks or accidents. Central computers reduce speeds in some or all lanes behind an event to gradually minimize the approaching flow of traffic.
ATM strategies are employed across Europe, and Kuhn traveled there in 2006 as part of a Federal Highways Administration scan tour to survey various installations of variable speed limits, temporary shoulder use, dynamic signage, and other technologies.
"Finding cost-effective ways to optimize capacity of the roadways is one of the most significant challenges that state DOTs face," says Kuhn. "This website will help planners develop solutions that use the existing roadways to increase throughput in places where funds or expansion space are not available to add more lanes."
More information this project is available on the main menu (top left) under "Projects: FY10 Projects".
[ Top ]
SPOTLIGHT ON TECHNOLOGY TRANSFER:
Helping Transit Agencies Make the Most of Scheduling Technologies
Project Title: "Facilitating Creation of Rural Transit System Technology User Groups"
Principal Investigator: Suzie Edrington (Transit Mobility Program, Texas Transportation Institute - Houston)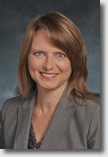 UTCM Researcher Suzie Edrington
Technology to support rural and small urban dispatch transit operations has advanced in recent years, incorporating automated dispatch/scheduling software, mobile data computers (MDCs) and automated vehicle location (AVL) systems. However, cost as well as staff expertise required to run these systems sometimes delay their implementation. Two major pieces of federal legislation have helped address the cost issue, providing transit agencies financial assistance for capital purchases – the 2005 Safe Accountable Flexible Efficient Transportation Equity Act: A Legacy for Users (SAFETEA-LU), and the 2009 American Rehabilitation and Recovery Act (ARRA).
And now, a recent UTCM initiative is helping Texas' rural and small urban transit agencies gain expertise to exploit these technologies.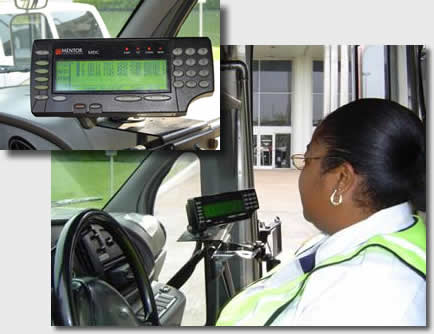 Mobile Data Computers (MDCs) are mounted on-board transit vehicles and communicate with the dispatch office to transmit and received real time updates to scheduling, such as an added trip or missed passenger pickup. They also replace the driver's paper records of activity on a shift.
"Many of the agencies in Texas have been able to purchase some or all of the technologies with help from SAFETEA-LU and ARRA, but they may not know how to put it to best use, or how best to support their staff in the transition from manual to electronic systems," says Suzie Edrington, Assistant Research Scientist at the Texas Transportation Institute (TTI) and lead researcher on the project. "In this project, we generated resources to assist these agencies." First, researchers did an inventory of the specific technologies in use by agencies across Texas and shared this information with the transit districts.
Next, the research team hosted a panel discussion on technology implementation at TxDOT's semi-annual Transit Providers Meeting last summer. "Since then, building on Linda Cherrington's UTCM Transit Leadership project, transit agencies have establish informal peer groups to exchange experiences in implementing technology," says Edrington.
Full use of the technology promotes regional coordination among service providers and increases productivity and cost effectiveness of a transit agency. "All this enhances mobility for the community as a whole – the ultimate goal of the technology and our project," says Edrington.
More information this project is available on the main menu (top left) under "Projects: FY10 Projects".
[ Top ]
2010 Urban Mobility Report Provides Even More Accurate Data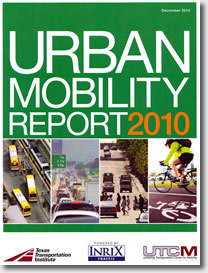 The 2010 UMR, released this month, can be accessed at http://mobility.tamu.edu
TTI's Urban Mobility Report (UMR) has long been considered the pre-eminent source of U.S. congestion information. And now the 2010 report published this month provides an even clearer and more detailed picture of the problems facing urban travelers.
Thanks to continued funding from the UTCM, TTI researchers were able to integrate speed data provided by INRIX, a leading private-sector provider of travel time information. The resulting 2010 report offers a greatly enhanced picture of congestion on a city-by-city basis.
"This year's report is a remarkable game changer," researcher David Schrank explained. "The new data address the biggest shortcoming of previous reports. The data show conditions for every day of the year and include the effect of weather problems, traffic crashes, special events, holidays, work zones and other factors directly impacting traffic flow."
The 2010 Urban Mobility Report can be accessed at http://mobility.tamu.edu.
[ Top ]
UTCM Projects Awarded for FY11
Twelve research, education and technology transfer projects were selected for funding last month by the UTCM Executive Committee. Four additional projects receiving special funding are also slated for FY11. Together, these projects comprise over $1M in federal funds and leverage another $1M worth of funds and services from other public and private sources. Addressing all of UTCM's focus areas, the studies include the collaborative efforts of researchers and students in TTI, academic departments within the Texas A&M University System, other Texas universities, TxDOT and public and private partnerships.
All FY11 projects can be found on the menu (top left) under "Projects: FY11 Projects".
[ Top ]
UTCM Completed Projects (since 09.01.10)
More information and final reports on these and other completed projects can be found on the maing menu (top left) under Projects: Completed Projects.
RESEARCH
"Improving Intermodal Connectivity in Rural Areas to Enhance Transportation Efficiency and Reduce Metro/Port/Border Congestion: A Case Study"
Stephen Fuller, John L. Park and John R. Robinson • 09.01.07 - 09.30.10 • $60,000
"Real-Timing the 2010 Urban Mobility Report"
Tim Lomax • 01.01.10 - 12.31.10 • $170,000

"Leveraging Land Development Returns to Finance Transportation Infrastructure Improvements"
Jesse Saginor, Eric Dumbaugh and David Ellis • 06.01.09 - 01.31.11 • $100,000
"Estimating the Value of Freight Delays in the Freight System"
Bruce Wang • 09.01.09 - 01.31.11 • $3,856
"Texas Urban Triangle: Pilot Study to Implement a Spatial Decision Support System (SDSS) for Sustainable Mobility"
Michael Neuman, Douglas Wunneberger and Curtis Morgan • 01.01.10 - 01.31.11 • $109,785
"Examining Long-Distance Express Bus as an Extension of and Feeder to Passenger Rail Systems"
Laura Higgins and Curtis Morgan • 04.01.10 - 01.31.11 • $82,000
TECHNOLOGY TRANSFER
"Development of a Mileage-Based User Fee Research Website"
Richard "Trey" Baker • 07.01.10 - 11.30.10 • $3,556
"Promoting Workforce Development for the Transportation Profession Through a Multi-University/Agency Partnership"
Raghava Kommalapati, Judy Perkins, Deborah Jasek, William Stockton and Robert Benz • 05.01.08 - 09.30.10 • $118,029
"Graduate Certificate Program in Transportation Planning: Phase 2"
Forster Ndubisi and Eric Dumbaugh • 04.01.10 - 01.31.11 • $58,000
[ Top ]