UTCM Final Technical Reports
Project Publications
Final Technical Reports
Some documents are made available in PDF format. You will need Adobe Reader to view them.

2012
Comparing Perceptions and Measures of Congestion
Minh Le, Shawn Turner, Tim Lomax, John Wikander, and Chris Poe

[PDF, 671K, 26 pages]
10.22.12
This research attempts to connect the relationships between perceived congestion as determined by IBM's Commuter Pain Survey results and measured congestion from Texas A&M Transportation Institute (TTI)'s Urban Mobility Report (UMR) in 10 cities across the United States. The raw Pain Index values (the unadjusted index values based entirely on survey responses) had higher correlation with TTI-based measures than the published Pain Index. The Raw Pain Index was found to correspond to a composite model of two of the four core UMR measures examined—the Travel Time Index and the Roadway Congestion Index.
This study also examines the correlation of measured congestion between the UMR and two measures of the INRIX National Traffic Scorecard. The Travel Time Tax (T3) and the Worst Hour T3 were found to correspond to a model of the Travel Time Index of the UMR. The Travel Time Tax correlates especially well with the Travel Time Index.
An eCertificate Program in Transportation Planning
Forster Ndubisi and Kenneth Joh

[PDF, 609K, 34 pages]
Course materials: http://utcm.tamu.edu/publications/other_project_pubs.stm#course-materials
08.20.12
In this project, researchers developed a proposal to extend the delivery of the recently developed Graduate Certificate in Transportation Planning at Texas A&M University (TAMU) to a wider audience via distance education (online or eCertificate). Established in August 2008, the certificate provides an interdisciplinary perspective on how economics, public policy, finance, and urban design influence the effectiveness of transportation systems. This project sought to convert four courses in the existing certificate into online courses, to develop a proposal for delivering the courses via distance education, and to move the proposal through the TAMU approval processes. The eCertificate will increase access to transportation courses and Texas A&M's transportation curriculum substantially, and it will strengthen Texas A&M as a national and global leader in the education of transportation professionals.
Transportation Workforce Development: Sustaining and Expanding High School Outreach Programs and Multi-agency Partnerships
Raghava Kommalapati Radhakrishnan Ramalingam, and William Stockton

[PDF, 4.5M, 78 pages]
08.17.12
This project supported a multi-university/agency partnership between Prairie View A&M University (PVAMU), the Texas A&M Transportation Institute (TTI), and Texas A&M University (TAMU) that focuses on producing high-quality transportation professionals from underrepresented groups. This project redesigned and expanded the Summer Transportation Institute (STI) Scholars program created with previous funding from this sponsor; its goal is to motivate students to take an interest in civil engineering and transportation careers. The STI Scholars program curriculum was redesigned to enhance the stimulating environment that would attract, inspire, and encourage students from various high schools within Texas and beyond to participate in the STI and STI Scholars program for the two summers before they pursued higher education. The STI Scholars program's internet presence was enhanced with updates and improvements to the STI webpage and Facebook page. To promote long-term sustainability, the project produced a network of (a) former students, (b) educational professionals (counselors and teachers), and (c) public and private agencies including academia. The program was able to track former graduates as part of its goal to monitor their education and careers beyond the program and found that 100 percent of the STI Scholars program graduates that could be tracked (seven out of eight) are pursuing higher education and more than 70 percent are pursuing higher education in science, technology, engineering, and mathematics (STEM)-related fields. The success of this project is having a positive impact on the civil engineering programs at PVAMU and TAMU and can serve as a model for similar outreach programs at other locations across the nation.
Transportation and Tourism
Katherine F. Turnbull and Greg P. Griffin

[PDF, 822K, 28 pages]
08.10.12
This project explored the link between transportation and tourism in Texas. A session on transit and tourism was organized and conducted as part of the 2012 Texas Transit Conference. Speakers at the session described public transit services oriented toward tourists in San Antonio, Corpus Christi, and South Padre Island. Session participants discussed additional research needs, outreach activities, and possible demonstration projects. A meeting was also held with representatives from the Texas Department of Transportation and BikeTexas to discuss current bicycle and walking programs oriented toward tourists in the state and areas for additional research, pilot testing, and technology transfer.
Using Smartphones to Collect Bicycle Travel Data in Texas
Joan G. Hudson, Jennifer C. Duthie, Yatinkumar K. Rathod, Katie A. Larsen, Joel L. Meyer

[PDF, 5.7M, 84 pages]
08.09.12
Researchers believed that if smartphones could prove to be an effective tool for collecting bicycle travel data, the information could be used for aiding decision making as to what types of facilities users prefer and guiding decisions about future facilities. If adequate facilities were provided, the mode share of bicyclists would increase and lead to a reduction in congestion. Thus, researchers used an existing smartphone application, CycleTracks, developed by the San Francisco County Transportation Authority, to develop this study. Austin-area bicyclists were targeted to test the application. Austin's strong cycling culture, its known bicycle friendliness, and the presence of several universities including the University of Texas made it an ideal test environment.
This report summarizes the many processes employed as part of this study, from marketing to data analysis. Detailed descriptions about using ArcGIS and other methods are included along with advantages and disadvantages of the various approaches. Recommendations are provided for communities looking to utilize smartphone applications for data collection. Descriptions of the participants and an understanding of who is riding where can answer key questions for a region considering an investment in bicycling infrastructure, education, and encouragement. It is the hope of the researchers that communities will utilize the information provided here to expand the discussion and implement programs for furthering bicycle accommodations and safety. Having data to guide the development and evaluation of programs and projects is a critical step in understanding the successes and opportunities. The smartphone is a useful data collection tool that should be considered when deliberating inexpensive ways to gather critical information.
Understanding Traveler Behavior: The Psychology Behind Managed Lane Use
Mark Burris, Winfred Arthur, Jr., Prem Chand Devarasetty, Jennifer McDonald, and Gonzalo J. Muñoz

[PDF, 3.2M, 114 pages]
07.31.12
Recent analysis of Katy Freeway/Managed Lane (ML) travelers and I-394 Freeway/High Occupancy Toll (HOT) lane traveler data has found that many travelers pay to use these HOT lanes and MLs when adjacent toll-free lanes are operating at nearly the same speed. Assuming that drivers are indeed cognizant of the fact that HOT and ML lanes are traveling at nearly the same speed, then it would seem that travelers are paying for the use of these lanes for reasons other than travel time savings. This project investigated the role of psychological variables, such as risk aversion, that may explain why travelers choose to pay to use these lanes when the travel time is almost equal. The results indicate that some psychological variables had significant relationships with the stated preference questions, but this was very limited.
Refining a Methodology for Determining the Economic Impacts of Transportation Improvements
David Ellis, Brianne Glover and Nicolas Norboge

[PDF, 736K, 48 pages]
07.27.12
Estimating the economic impact of transportation improvements has previously proven to be a difficult task. After an exhaustive literature review, it was clear that the transportation profession lacked standards and methodologies for determining economic impact from transportation investments. As a result, Texas Transportation Institute (TTI) researchers sought to fulfill this need. This project examined the current and historical economic impact assessment programs utilized by four state departments of transportation. Researchers evaluated these programs based on three outcomes: increased business and industry competitiveness, strengthened long-term regional and local economies, and enhanced household well-being. Researchers found that promoting transparency and flexibility and involving as many stakeholders as possible were key elements to economic program success. Based on these successful program elements, TTI professionals developed a new economic determination method to incorporate into the existing Transportation Revenue Estimation and Needs Determination System (TRENDS). The results from this study were also used to educate the public on the impacts transportation improvements, or lack of improvements, have on communities.
Activating Teens to Prevent Traffic Crashes

[PDF, 4.8M, 26 pages]
07.27.12
Car crashes kill more young people each year than any other cause. In addition to law enforcement and driver education, efforts to improve safety for this age group over the years have included public education and outreach programs, but these programs have suffered from two notable shortcomings. First, they have tended to focus exclusively on drunk driving, largely overlooking dangers that are actually more common to teenage drivers, such as nighttime driving and distractions (mainly cell phones/texting and other teen passengers). Second, the programs have typically been developed by adults with little or no involvement by the target audience, thereby limiting their potential effectiveness. Teens in the Driver Seat® (TDS) is a growing program that addresses each of these issues by focusing on many of the common teen driver dangers and by involving teens in both the development and delivery of safety messages. This essential teen involvement takes many forms, one of the most important of which is the TDS Teen Advisory Board, a representative group of teens from across Texas who offer ongoing guidance and feedback to Texas Transportation Institute staff who are responsible for the TDS program. The activities described in this report have enhanced the substance and value of this teen feedback by bringing the board's members together once each quarter for extensive, interactive involvement in the ongoing refinement and growth of the TDS program. Since the launch of TDS in 2003, the frequency and rate of teen drivers involved in fatal crashes has fallen faster and more steadily in Texas than in any other state, a distinction due in part to how TDS peer messaging augments and supports the state's graduated driver license law. This increased teen involvement in TDS has helped to ensure continued success of the program.
Innovative Educational Modules for the Next Generation of Transportation Professionals
Debbie Jasek, Judy Perkins and David Bierling
Project Website: http://www.transportationoutreach.org/

[PDF, 668K, 22 pages]
07.27.12
Basic science and mathematics competence, including awareness of engineering careers, gained in grades K–12 forms the foundation of an educated, capable, and technical future transportation workforce. This project developed a series of educational science, technology, engineering, and math (STEM)-based modules for grades 6–12. These modules engage students in real-world applications of math, deductive reasoning, and problem solving. The modules can be incorporated in either the classroom or informal educational settings, such as afterschool enrichment programs. The modules created by this project can be found at http://www.transportationoutreach.org.
The Transportation Economy: Just in Time
Project Title: "The Transportation Economy: Past and Future" (09-27-05)
Richard Cole and David Dennis
Project Website: http://transportationeconomy.tamu.edu/

[PDF, 1.6M, 36 pages]
07.27.12
The purpose of this project was to produce a short educational video, targeted at middle school and high school students, illustrating the critical role transportation plays in our modern economy. This report documents the production of a 6.5-minute video that provides students with a glimpse of how transportation has become an integral part of the modern economy. The video, titled The Transportation Economy: Just in Time, is available in both streaming and downloadable formats to public and private schools online (http://transportationeconomy.tamu.edu/). The site includes a full transcript of the production and a downloadable PowerPoint® presentation. These materials are for use as supplemental material for middle school and high school economics and civics classes.
Enhancement and Outreach for the Active Management Screening Tool
Project Website: http://active-traffic.tamu.edu/

[PDF, 3.4M, 38 pages]
07.17.12
Active traffic management—widely deployed for decades in Europe but in its infancy in the United States—maximizes the effectiveness and efficiency of the facility, and increases throughput and safety through integrated systems with new technology, including the automation of dynamic deployment to optimize performance quickly. In a previous UTCM project (TRID Online Accession #01364063) the principal investigator completed a beta version of an Active Management Screening Tool (AMST) for use by agencies in their congestion management process. The purpose of the screening tool is to help agencies better assess the potential of active management strategies for their region. It is structured to provide beneficial information and guidance related to active management strategies in all areas and levels of transportation planning. This project enhanced the AMST with recent and emerging research and domestic experiences to make it a more robust product. The project also enhanced the website developed in the previous UTCM project to incorporate recent development and changes in the newly formed Active Transportation and Demand Management program within the Federal Highway Administration. Furthermore, by reaching out to practitioners across the country regarding the availability of the AMST, this project can have a positive impact on transportation networks by providing a tool to assess appropriate active management strategies for a region.
Transit Management Certificate Program
Linda Cherrington, Matt Sandidge and Ken Joh

[PDF, 724K, 46 pages]
07.13.12
TTI worked closely with the Landscape Architecture and Urban Planning Department (LAUP) of Texas A&M University (TAMU) to develop a transit management certificate focus for the current Graduate Certificate in Transportation Planning (CTP) housed in the College of Architecture at TAMU. The purpose of the focus area is to provide graduate level curriculum to individuals interested in public transportation. The focus is multidisciplinary and open to all graduate students at Texas A&M University. This program is the first step in the development of future educational opportunities in public transportation in Texas.
The Value of Public Transportation for Improving the Quality of Life for the Rural Elderly
Project Title: "The Value of Non-Medical Transportation for Improving the Quality of Life for the Rural Elderly: Methodology and Information Considerations " (11-08-74)
James W. Mjelde, Rebekka Dudensing, Linda K. Cherrington, Yanhong Jin, Alicia A. Israel, and Junyi Chen

[PDF, 1.4M, 140 pages]
07.13.12
Transportation for the rural elderly is an increasing concern as baby boomers age and young people continue to exit rural communities. As the elderly are no longer able to drive themselves, they rely on alternate forms of transportation, including public transportation systems. However, such systems are often not a good substitute for driving a private car, especially in rural areas. This study focuses on non-medical transportation; medical transportation is addressed in the literature and is more widely available to the elderly. Because expanded rural transportation systems likely will be funded by taxpayers, an understanding of their preferences and willingness-to-pay for non-medical transportation options is essential. To fulfill this objective, a choice experiment survey was administered to taxpayers in three counties (Atascosa, Polk, and Parker) in Texas and to students at Texas A&M University. Results indicate that taxpayers value transportation services for the elderly and are willing to support them. They value more flexible options over base levels of the attributes presented, but they may not always prefer the most flexible options. Respondents' willingness to pay for attributes was similar across counties, but differences in socio-demographic coefficients suggests that transportation systems may need to be customized to meet local needs. Furthermore, the cost of improvements to the transportation systems may be more than county residents are willing to pay. Students' willingness-to-pay was generally higher than that of county residents, and the variation in students' willingness to pay was smaller. However, students and county residents ranked the value of transportation attributes similarly, suggesting that students may be a good convenience sample for behavioral questions but less so for policy matters.
Multi-vehicle Mobility Allowance Shuttle Transit (MAST) System: An Analytical Model to Select the Fleet Size and a Scheduling Heuristic
Project Title: "The Multiple Vehicle MAST Service: Design and Scheduling" (11-47-77)
Luca Quadrifoglio and Wei Lu

[PDF, 829K, 50 pages]
06.30.12
The mobility allowance shuttle transit (MAST) system is a hybrid transit system in which vehicles are allowed to deviate from a fixed route to serve flexible demand. A mixed integer programming (MIP) formulation for the static scheduling problem of a multi-vehicle Mobility Allowance Shuttle Transit (MAST) system is proposed in this thesis. Based on the MIP formulation, we analyzed the impacts of time headways between consecutive transit vehicles on the performance of a two-vehicle MAST system. An analytical framework is then developed to model the performance of both one-vehicle and two-vehicle MAST systems, which is used to identify the critical demand level at which an increase of the fleet size from one to two vehicles would be appropriate. Finally, a sensitivity analysis is conducted to find out the impact of a key modeling parameter, w1, the weight of operations cost on the critical demand.
In this research, we developed an insertion heuristic for a multi-vehicle MAST system, which has never been addressed in the literature. The proposed heuristic is validated and evaluated by a set of simulations performed at different demand levels and with different control parameters. By comparing its performance versus the optimal solutions, the effectiveness of the heuristic is confirmed. Compared to its single-vehicle counterpart, the multiple-vehicle MAST prevails in terms of rejection rate, passenger waiting time and overall objective function, among other performance indices.
Conference on Performance Measures for Transportation and Livable Communities: Summary of Work Performed
Project Title: "Livability Performance Measures Workshop" (11-15-78)
Tara L. Ramani and Katherine F. Turnbull
Project Website: http://utcm.tamu.edu/LivabilityConference/

[PDF, 411K, 24 pages]
06.30.12
Livability is primarily concerned with issues such as transportation choices, neighborhood character and access to destinations, affordability, and maintaining cohesive rural, urban and suburban communities. As transportation agencies work toward addressing livability goals, it is important that they monitor their progress. Performance measurement is highly relevant in this context and can help transportation agencies better understand and apply livability concepts and enhance decision making processes. The aim of this project was to plan and conduct a workshop or conference on transportation and livability performance measures, involving researchers and transportation practitioners from different agencies in the U.S. The conference was held in Austin, Texas, from September 7–8, 2012, with over 130 attendees who participated in plenary sessions, breakout sessions, and interactive discussions. The conference was co-sponsored by the Transportation Research Board, by the Center for Transportation Studies at the University of Minnesota, and TTI's Transportation Economics Center. The outcome of the conference was summarized in conference proceedings, published at: http://utcm.tamu.edu/LivabilityConference/proceedings/documents/Conference_Summary.pdf. This report summarizes the work performed and results achieved in planning and implementing this conference.
Assessing Public Benefits and Costs of Freight Transportation Projects: Measuring Shippers' Value of Delay on the Freight System
Qi Gong, Qing Miao, Bruce Wang and Teresa M. Adams

[PDF, 1.0M, 62 pages]
05.31.12
In an effort to gauge the economic impact of freight delay due to highway congestion, this project focuses on estimating shippers' value of delay (VOD). We have accomplished this through three strategies to monetize the impacts of congestion on shippers' operations: 1) Three half-structured on-site interviews with shipping managers in different type of industries were conducted to obtain insights into their daily logistic operations and their subjective assessment of the delay impacts. In light of the interviews, a comprehensive survey of major manufacturers and wholesalers within Texas and Wisconsin was conducted. 2) The analytical hierarchy process (AHP) and willingness-to-pay (WTP) method were then applied to quantify the impact of congestion on shippers. The AHP reveals that among four possible delay components, en route transportation delay is the most important, which justifies WTP evaluating the value of highway congestion delay. We have found a value of $56 per hour for congestion. Furthermore, a value of $0.4 per percentage delay was also calculated for transportation time reliability using individual defined travel time. 3) An analytical inventory model was used to examine the value of delay in view of mean and reliability of transit time for shipment receivers. Nine industrial groups were analyzed. For example, shippers in the chemical industry are calculated to have an additional $13.89 cost on a truckload delivery if the transit time is expected to increase by one hour. The random delay has an average of $31.04 per hour per truckload delivery.
Development of an Early-Stage Toll Revenue Estimation Model
Project Title: "Development of an Enhanced Toll Project Screening Model" (09-22-02)
Curtis Beaty and Henry Lieu
Model

[Excel, 853K]

User Manual

[PDF, 1.0M, 35 pages]

Project Final Report

[PDF, 1.1M, 54 pages]
05.31.12
With agencies and states increasingly considering tolls as a means to finance transportation infrastructure, there is an increasing need to quickly assess the feasibility of potential tolling projects. In the early stages of a project when an agency—either public or private—merely wants to see the possibility of future traffic and tolled revenues, there still exists a need for a tool to capture basic assumptions and perform preliminary forecasting calculations to see if a project even warrants further examination as a toll road. Both as an early screening tool and as a continuing reasonableness test, this early-stage toll revenue estimation model will allow a user to simultaneously examine the interaction of multiple tolling variables and traffic scenarios so that agencies can make more informed decisions. The authors develop a stand-alone, spreadsheet-based model that prepares early-stage traffic and toll revenue estimates. The model allows users to examine a potential tolled project as a single phase or multiple phases—up to three—then examine the results individually or cumulatively.
Community Design and the Incidence of Crashes Involving Pedestrians and Motorists Aged 75 and Older
Project Title: "Designing Communities to Provide Safe Mobility Options for Older Adults" (11-03-67)
Eric Dumbaugh, Yi Zhang, and Wenhao Li

[PDF, 1.6M, 38 pages]
04.30.12
Contemporary community design practice has focused on strategies intended to make communities safe for families with children. Comparatively little attention has been given to its effects on older adults. This study employs a series of negative binomial regression models to understand how urban form may affect the incidence of total and killed-or-severely-injured (KSI) crashes involving older drivers and pedestrians. Intersections, strip commercial uses, big-box stores, and arterial thoroughfares pose crash hazards for older motorists, while big-box stores and arterials are problematic for older pedestrians. A network of lower-speed streets was found to be associated with reductions in crashes involving older motorists and pedestrians.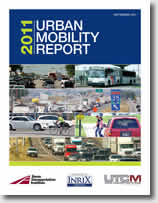 Refining the Real-Timed Urban Mobility Report
Tim Lomax, Shawn Turner, Bill Eisele, David Schrank, Lauren Geng, and Brian Shollar
Project Website: http://mobility.tamu.edu/ums/

[PDF, 3.6M, 204 pages]
03.31.12
The Texas Transportation Institute (TTI) is considered a national leader in providing congestion and mobility information. The Urban Mobility Report (UMR) is the most widely quoted report on urban congestion and the associated costs in the nation. The report measures system delay, wasted fuel, and the annual cost of congestion in all U.S. urban areas. In 2011, researchers also produced the Congested Corridors Report (CCR) which focused on traffic congestion along 328 corridors across the U.S. The CCR is the first report to include travel reliability statistics on a nationwide basis. In recent years, the UMR/CCR researchers partnered with a private-sector historical speed provider—INRIX—to obtain nationwide speed data to generate the best possible estimate of mobility conditions across the nation. The data that are available from this partnership continue to allow the UMR/CCR methodology to evolve. While much more is understood about freeway operations and mobility, the INRIX data are allowing researchers to take a closer look at arterial street operations and mobility. This report describes a methodological improvement in the UMR arterial street congestion calculations, including a change in the definition of "free-flow speed," which is used for delay calculations on arterial streets. This research improves the estimates of congestion and its costs, and maintains TTI's position as the most authoritative source of mobility and congestion information.
Use of Performance Measurement to Include Air Quality and Energy into Mileage-Based User Fees
Reza Farzaneh, Kristen Novak, Trey Baker and Ginger Goodin

[PDF, 2.1M, 173 pages]
03.31.12
Road pricing is an increasingly popular tool for achieving a number of transportation policy related goals and objectives. Addressing environmental concerns is a common goal of road pricing systems in Europe but is less common in the U.S., and frameworks supporting their deployment are less developed. The development of more technologically advanced pricing systems, such as mileage-based user fees (MBUFs) provides platforms for more detailed charging and the achievement of more specific air quality related goals and objectives. This research project is aimed at establishing a framework for levying MBUFs designed to achieve various air quality improvement policy objectives. This research presents the first step toward a pricing framework based on the concept of performance measurement that systematically defines and incorporates potential air quality goals. The process of developing the proposed framework included defining the interactive role of user fees and pricing in roadway transportation operations and identifying air quality performance measures for determining the appropriate vehicle mileage fee price. This framework will be invaluable in more effectively monitoring the air quality and greenhouse gas reduction and mitigation performance of vehicle mileage fee systems.
[ Top ]
Algorithms for Routing Vehicles and Their Application to the Paratransit Vehicle Scheduling Problem
Myoungkuk Park, Paul Oberlin, Sivakumar Rathinam, Luca Quadrifoglio, and Swaroop Darbha

[PDF, 1.62M, 42 pages]
03.31.12
As the demand for paratransit services increases, there is a constant pressure to maintain the quality of service provided to the customers while minimizing the cost of operation; this is especially important as the availability of public funding for paratransit services has been on the decline. Key tasks in accomplishing this objective are efficiently allocating vehicles to service trips and adjusting the schedules of vehicles dynamically in response to calls received by the service providers from the customers on the day of the service. For many paratransit services, capacity of vehicles is not a binding constraint. This is especially so in rural applications. For this reason, we will focus on dealing with routing vehicles that are not subject to any passenger capacity constraints. In this report, we consider two important relaxations of this problem, which may be considered as problems of independent interest and significance. The first problem deals with relaxing all the constraints associated with the order in which the vehicles must visit pickup and delivery locations of the passengers as well as the time window constraints. The second relaxation additionally imposes ordering requirements. Both problems are combinatorially hard problems, and we provide formulations and algorithms for finding sub-optimal solutions along with an estimate of their quality. In the last section of this report, we consider the time window constraints for pickup and delivery of customers and provide a heuristic to find feasible solutions. We corroborate the results numerically with small, randomly generated instances of the paratransit scheduling problem.
[ Top ]
Performance Measures for Sustainable Freight Movement
(09-37-15)
Reza Farzaneh, Tara Ramani, Anupama Krishnan and Josias Zietsman

[PDF, 1.4M, 88 pages]
02.29.12
The movement of freight in the U.S. is increasingly impacted by congestion, overburdened infrastructure, and economic issues. Thus, there is a need to emphasize and improve sustainability of the freight system, by both enhancing the benefits of a robust freight system and minimizing the negative impacts freight movement can have on transportation corridors. In general, sustainability refers to providing for environmental stewardship, economic efficiency and social equity in the present as well as into the future. This project developed a framework and methodology to address the issues of freight sustainability at the transportation corridor level, i.e., for highways and rail facilities. Steps included defining the goals and objectives of sustainability pertaining to freight movement and developing appropriate performance measures that reflect progress toward these goals. A set of performance measures were developed to accommodate the specific needs of both urban and rural corridors. This research also developed a methodology for evaluating individual performance measures for a specific transportation corridor and combined them into an aggregate sustainability indicator. This process enables users to compare results for different corridors or for alternate development scenarios for a specific corridor. This project included a case study for a major freight corridor. The resulting tools provide an analysis methodology for departments of transportation, metropolitan planning organizations, and other private- and public-sector officials to use in planning, project development, operations, and other aspects of their businesses.
[ Top ]
Teen Driver Cell Phone Blocker
Mark E. Benden, Rainer Fink, and James Stafford

[PDF, 2.1M, 54 pages]
02.29.12
This study was a randomized control intervention to measure the effectiveness of a cellular phone control device that communicates with the vehicles of teen drivers to deny them access to their phone while driving. The purpose of the device is to reduce distraction-related negative driving events, and the study sampled teens from both urban and rural areas (Houston and Brenham, Texas). Investigators developed and manufactured working samples of the patent-pending cell phone disabling device from the Texas A&M Health Science Center (HSC). Following unforeseen development cost issues and dramatic changes in the target cellular phone market, the HSC device was abandoned for a commercial device already on the market. The comparison with this device was conducted using pre- and post-surveys of parents regarding driving records of teens in both the control (n = 26) and treatment (n = 72) groups. We analyzed vehicle, crash, and moving violation data. Qualitative data were collected in the form of surveys and analyzed using statistical software. Surveys of parents and teens were taken at inception and 1 year after the teen entered the study. Surveys inquired about teen involvement in traffic crashes, awareness of performance decrements, attitudes toward the device, issues with usability and quality, and marketability of the device. Due to technology problems, dramatic dropout rates (54% at 12 months), and low initial participation rates, results were limited to conclusions related to the strong resistance by teens to cell phone inhibiting devices and the challenges associated with implementing the devices on a large scale.
[ Top ]
2011

Intercity Passenger Rail: Implications for Urban, Regional, and National Mobility
Benjamin R. Sperry and Curtis A. Morgan

[PDF, 2.6M, 100 pages]
12.31.11
Recent policy and regulatory actions by the U.S. government have revived interest in intercity passenger rail among transportation planners, policymakers, and the general public. As part of a fully integrated multimodal intercity corridor, passenger rail can provide a number of measurable impacts on urban, regional, and national mobility. This research examines these impacts using the Milwaukee-Chicago Hiawatha Service intercity passenger rail route as a case study. In addition to providing competitive travel times with automobile travel and frequent daily service, rail passengers can also seamlessly connect to airline service via a station at the Milwaukee airport. Project findings indicate that if the rail service did not exist, most Hiawatha Service passengers would travel via personal vehicle, which indicates that the Hiawatha Service is providing congestion relief for the highways parallel to the route. The airport link allows for sustainable ground access to the Milwaukee airport and also extends the market area for the airport into the Chicago region, providing those residents with greater choices in air travel. The findings of this project provide unique insight into the mobility impacts of intercity passenger rail and can be used by state department of transportation rail planners and other public agency staff to develop rail service plans and administer state passenger rail programs throughout the U.S.
[ Top ]

Best Practices and Outreach for Active Traffic Management
Charles Levecq, Beverly Kuhn and Debbie Jasek
Project Website: http://active-traffic.tamu.edu/

[PDF, 11.0M, 66 pages]
12.31.11
Continued growth in travel on congested freeway corridors and limited public funding for expansion and improvement projects are limiting agencies' abilities to provide sufficient roadway capacity in major metropolitan areas. Focusing on trip reliability, active traffic management (ATM)—widely deployed for decades in Europe but in its early stages in the United States— maximizes the effectiveness and efficiency of the facility and increases throughput and safety through integrated systems with new technology, including the automation of dynamic deployment to optimize performance quickly. This congestion management approach consists of a combination of strategies that, when implemented in concert, fully optimize the existing infrastructure and provide measurable benefits to the transportation network and the motoring public. These strategies include speed harmonization, temporary shoulder use, junction control, and dynamic signing and rerouting. This project provides a summary of the research conducted during a project sponsored by the University Transportation Center for Mobility™ related to ATM. This document includes a literature review related to ATM, an inventory of ATM deployments both overseas and in the United States, a summary of best practices and general guidelines for the deployment of ATM, information on the development of an ATM website (http://active-traffic.tamu.edu), and the delivery of a webinar to present the project results to increase the awareness of ATM within the transportation profession.
[ Top ]

Effect of Climate Change on Crop Production Patterns with Implications to Transport Flows and Inland Waterways
(10-54-51)
Dmitry Vedenov, Steven W. Fuller, Bruce A. McCarl, Witsanu Attavanich, and Zafarbek Ahmedov

[PDF, 3.8M, 86 pages]
12.31.11
This project analyzed the demand for transportation capacity and changes in transportation flows on inland waterways due to shifts in crop production patterns induced by climate change. Shifts in the crop production mix have been observed in recent years in response to changing climate. The primary exhibited trend is that of a northward shift resulting, for example, in increased corn production in historically wheat-producing regions. Given differences in the typical destinations and volumes of corn and wheat shipments, such changes have the potential to alter the pattern, composition and seasonality of grain flows toward and along the Mississippi River. As a result, bulk cargo traffic patterns, transportation flows, and demand for transportation capacity and facilities in the Mississippi River basin may change dramatically in the near future. The project analyzed these changes using a U.S. agricultural sector model and an international grain transportation model. The former predicts shifts in production patterns due to climate change, while the latter analyzes the effect of predicted production shifts on transportation flows. The results will help planners in forecasting demand for Mississippi River transport facilities and capacity.
[ Top ]

Developing an Interdisciplinary Certificate Program in Transportation Planning, Phase 2: The eCertificate
Forster Ndubisi and Eric Dumbaugh

[PDF, 1.2M, 47 pages]
11.30.11
This proposal extends the delivery of the recently developed graduate Certificate in Transportation Planning to a wider audience through the establishment of an Executive Certificate Program by distance (eCertificate). While the need for an interdisciplinary approach to transportation is widely recognized by the professional community, there are few educational programs that address the field of transportation in a truly comprehensive, interdisciplinary manner. Texas A M University's (TAMU's) university-wide graduate Certificate in Transportation Planning was established in August 2008 to address this need. This program has proved to be very successful. A limitation of the existing certificate program is that it is available only to graduate students at TAMU in College Station. The eCertificate program extends the delivery of the existing certificate to a wider audience of professionals interested in transportation in selected metropolitan areas in Texas. Preliminary indications suggest that an audience for the certificate exists in major metropolitan areas in Texas, especially Austin, Dallas, Houston, and San Antonio. The certificate will increase access, expand Texas A M's transportation curriculum, and enhance the university's position as a national leader in transportation education.
[ Top ]

Creating the Next Generation of Transportation Professionals
Melisa Finley and Debbie Jasek

[PDF, 1.2M, 30 pages]
11.30.11
The transportation industry, like every other profession that relies heavily on the science, technology, engineering, and mathematics (STEM) fields, faces a growing shortage of professional engineers.  The purpose of this project was to investigate new methods for conducting educational outreach activities for kindergarten through twelfth grade (K–12) students and compare the effectiveness of various implementation methods.  During this project, Texas Transportation Institute (TTI) researchers developed two in-class educational outreach modules and several displays that they could easily transport and exhibit at various educational outreach activities.  The first in-class module introduces intermediate school students to the world of transportation and transportation engineering and teaches students about the principle of retroreflectivity.  The second in-class module teaches kindergarten students about sign shapes and colors.
TTI researchers also participated in 12 educational outreach activities.  These activities included:
Four in-school events.
Four field trips to TTI facilities.
Three summer activities.
One engineering day event. 
The students participating in these activities ranged from kindergarten to 12th grade.  The educational outreach activities conducted introduced the fields of transportation and engineering to over 2,000 students.
[ Top ]

Statistical Analysis of Vessel Waiting Time and Lockage Times on the Upper Mississippi River
Project Title: "Statistical Analysis of Waterway Network Congestion: Causes and Costs" (09-16-14)
Ximing Wu Meng-Shiuh Chang, Steven Fuller, and Yu Yvette Zhang

[PDF, 941K, 40 pages]
10.31.11
This project uses statistical methods to analyze traffic congestion of the upper Mississippi and the Illinois Rivers, in particular, locks 18, 20, 21, 22, 24, and 25 on the upper Mississippi and the Lagrange and Peoria locks on the Illinois River. The main purpose of this project is identifying and evaluating non-structural alternatives (those not requiring construction, but rather procedural or policy changes, for instance, congestion fee, excess lockage time charges, helper boats, switch boats, deck winches, and moorings) that might be employed to offer nearby congestion relief. The first objective of this study was to carry out statistical analysis on locking activity at each lock site for each locked vessel to gain insight on forces that affect congestion and to examine the possibilities for congestion mitigation through non-structural alternatives. The second objective was to measure the effect of inland waterway congestion on barge transportation rates as well as other costs associated with the predetermined lock chokepoints and develop methodology increasingly appropriate for such measures.
[ Top ]

The Short-Run Impact of Gas Prices on Toll Road Use
Project Title: "The Impact of Gas Prices on Toll Road Use" (09-01-03)
Mark Burris, Chao Huang

[PDF, 3.7M, 124 pages]
10.31.11
Travel behavior is a function of many variables, with cost among the most important. Recent fluctuations in the price of gas provide an excellent opportunity to observe the impact of the price of gas on travel behavior. This project goes a step beyond looking at the elasticity of travel with respect to gas price by examining how recent changes in gas prices have impacted travel specifically on toll facilities. Data from around the US was used to examine how traffic levels on toll roads have been affected by fluctuations in gas prices over the last several years. This study developed models that isolates elasticity of toll road demand with respect to gas price independent of other exogenous factors such as local economy, population, and toll rates. The research findings indicated that travel demand elasticity estimates with respect to gas price were inelastic and mostly negative. Elasticities found here for the period from 2000 to 2010 ranged from −0.36 to +0.14, similar to those found in the literature for non-toll facilities. However, the average value of the elasticities found here were much smaller (closer to −0.06) than those found for non-toll facilities.
[ Top ]

The 2011 Mileage-Based User Fee Symposium
Project Title: "Mileage-Based User Fee Symposium" (11-00-64)
Ginger Goodin, Nicholas Wood, and Richard T. Baker

[PDF, 1.0M, 26 pages]
09.30.11
The fuel tax is rapidly losing its ability to support system needs. Federal environmental regulations and the escalating price of fossil fuels have created a strong incentive to develop and utilize more fuel-efficient vehicles, which will drive down fuel tax revenues relative to use of the nation's roadway network. Given the challenges associated with the declining sustainability of the fuel tax, the likely successor is a road user fee largely based on actual usage. This project sponsored the third annual two-day Symposium on Mileage-Based User Fees that brought together professionals in the field of mileage-based fees for the purpose of sharing information on current applications and exploring their potential as a supplement or replacement for the fuel tax.
[ Top ]

Evaluating the Use of Transfers for Improving Demand Responsive Systems Adopting Zoning Strategies
Project Title: "Evaluating the Use of Transfers for Improving Rural Public Transportation Systems" (10-60-59)
Luca Quadrifoglio, Chung-Wei Shen, and Suzie Edrington

[PDF, 1.0M, 90 pages]
07.31.11
In large suburban/rural aras that have a low and widely dispersed population, conventional fixed route transit services hardly satisfy the travel needs of residents. As an alternative, demand responsive transit (DRT) systems have flexible routes and schedules that can provide curb-to-curb/door-to-door services to better meet the needs of rural areas. However, rural DRT services are still extremely costly to operate. In this project researchers consider a variation of the regular DRT system that adopts the transfer practice to reduce operating costs. Researchers developed a simulation model to evaluate the effect of different transfer operating policies. Available data from Houston METRO were used for testing and modeling purposes. The results indicate that zoning with transfer can provide significant benefits to paratransit operations that are managing zoning structures. However, no-zoning strategies, such as the one currently used by Houston METRO, perform more efficiently overall. This study provides decision makers and DRT agencies with information on an innovative operating practice to improve the performance and cost efficiency of public transportation systems.
[ Top ]

Development of Statistical Models to Forecast Crossing Times of Commercial Vehicles
Project Title: "Development of a Short-Term Prediction Model for Commercial Vehicle Crossing Times" (10-09-60)
Dong Hun Kang, Cesar Ochoa, Rajat Rajbhandari, and Francisco Garcia

[PDF, 1.5M, 44 pages]
07.31.11
Border crossing time measurement systems for commercial vehicles are being implemented throughout the U.S.-Mexico border. These systems are based on radio frequency identification (RFID) technology. With funding from the Federal Highway Administration, the Texas Transportation Institute (TTI)/Battelle team installed an RFID-based system at the Bridge of the Americas (BOTA) in El Paso, Texas, to measure and archive crossing times of commercial vehicles. The RFID system at BOTA is already operational, and current truck crossing time information is relayed and archived in a centralized repository. In addition, with funding from the Texas Department of Transportation, TTI deployed RFID systems on the Pharr-Reynosa Bridge. These systems measure the current crossing time and provide the information to users; however, there is no system in place to predict the crossing times of trucks. In fact, there are no systems in place at the U.S.-Mexico border to predict traffic conditions including crossing times of trucks. In this project, statistical models were developed to predict crossing times of trucks over a short range of time. The statistical prediction models use historic data and take into account empirical relationships between border-crossing-related parameters and truck crossing times.
[ Top ]

Examining Challenges, Opportunities and Best Practices for Addressing Rural Mobility and Economic Development under SAFETEA-LU's Coordinated Planning and Human Services Framework
June Martin, Cecilia Giusti, Eric Dumbaugh, and Linda Cherrington

[PDF, 1.3M, 76 pages]
07.31.11
In response to changes in federal requirements for rural transit planning, the Texas State Legislature and the Texas Department of Transportation have recently developed coordinated transit and human services plans for the 24 planning regions in the state of Texas. This study evaluates both the processes that have been adopted throughout the state as well as the types of outcomes that have emerged. Having engaged in perhaps the most comprehensive approach to meeting the revised federal requirements in the United States, the Texas experience in developing coordinated transit and human service plans is particularly useful for identifying opportunities, barriers, and best practices for coordinated rural transit planning, and thus for filling a major gap in the available professional guidance.
[ Top ]

Assessing the Value of Delay to Truckers and Carriers
Project Title: "Estimating the Value of Freight Delays in the Freight System" (09-00-45)
Qing Miao, Bruce X. Wang and Teresa M. Adams

[PDF, 572K, 44 pages]
07.20.11
This project evaluates the value of delay (VOD) to commercial vehicle operators due to highway congestion. The VOD for congestion is a fundamental parameter driving the private sectors' response to public freight projects and policies such as corridor construction and tolling. Factors affecting the commercial VOD include direct operational cost, travel length, travel time variation, inventory holding, and warehouse management. To approach the VOD, two methods are adopted in this project. One is the stated preference (SP) survey. The other is carrier fleet operational simulation. Simulation shows a range of VOD from $94/hr to $121/hr for the case of a central depot and $80/hr to $84/hr for the case of two depots. An SP survey is conducted for truckers and carriers in two scenarios, which results in a VOD range from $25/hr to $65/hr. A comparison between the survey and the simulation results shows that drivers perceive a significantly lower VOD than the simulated VOD in freight operation.
[ Top ]

Impacts of Funding and Allocation Changes on Rural Transit in Texas
Suzie Edrington and Jonathan Brooks

[PDF, 2.2M, 107 pages]
06.30.11
Methods of allocating funding for rural transit districts (RTDs) have changed in the last several years. The Federal Transit Administration increased federal funding for non-urbanized (rural) transit under SAFETEA-LU. At the same time, the Texas Transportation Commission approved a needs- and performance-based formula for allocating state and federal funds among RTDs.
This research project had two goals: to assess whether these changes in federal and state rural transit funding have affected the ability of RTDs to match federal funds (a requirement to receive that funding), and to gauge whether these changes have affected service levels and ridership.
Significant results of the study concern the following:
The gap between state and federal funds: RTDs often find it difficult to generate local revenues and so rely on state funds to match federal funds. The shortfall in state funds required to match available federal programs available to RTDs was estimated at $5.3 million in fiscal year 2010.
Increased operational costs: Despite increased federal funding, increased operational costs affect RTDs' ability to maintain or enhance service. Fuel, insurance, and cost-of-living wage adjustments will cost RTDs an additional $2.0 million in fiscal year 2011.
RTD level of service: As funding increased, level of service increased (in revenue miles). As level of service increased, ridership also increased. As funding decreased, RTDs' level of service decreased. As level of service decreased, ridership also decreased.
State planners can use this information to project anticipated changes in demand for public transit in rural areas and to craft appropriate strategies. Without future increases in state funding, RTDs will face an increasing burden to find local sources of funding for federal local-match requirements. A reduction in funding is likely to result in less transit in the communities served. A growing and aging rural population will also increase the demand.
[ Top ]

Development of a Special Topics Course on Civil Engineering Project Finance for the Zachry Department of Civil Engineering of Texas A&M University
Project Title: "A New Graduate Course in Transportation Infrastructure Finance in the Civil Engineering Department at Texas A&M University" (10-22-49)
Ivan Damnjanovic and Zafer Aslan

[PDF, 7.8M, 214 pages]
05.31.11
Experts predict that the highway trust fund will deteriorate rapidly over the course of the next several years. This situation has led many state agencies to seek alternative financing methods that can meet both social and economic needs. One possible solution to the problem is to partner with the private sector and together, utilizing project finance methods, deliver facilities. This innovative approach has only recently found new applications in delivering transportation infrastructure. This trend is likely to increase in the near future. Because it has been widely adopted in other infrastructure sectors, mainly for delivering power plants, major pipelines, etc., many valuable cases and lessons learned can be brought to the transportation arena. Nevertheless, very few, if any, of the educational programs in the country have a project finance course integrated into the core curriculum for graduate civil engineering students. Even fewer programs treat project finance as a truly interdisciplinary topic. In fact, the topic of project finance often constitutes only a small part of the structured finance curricula. The purpose of this project was to bridge this gap by developing educational and teaching materials for an interdisciplinary course in project finance. This course communicates the implications of financial decisions on engineering choices and vice versa. The course is directed toward graduate students at the Master of Science level to better prepare them to deal with real-world transportation financing.
[ Top ]

Improving Intermodal Connectivity in Rural Areas to Enhance Transportation Efficiency: A Case Study
Stephen Fuller, John Robinson, Francisco Fraire and Sharada Vadali

[PDF, 1.1M, 46 pages]
05.11.11
Congested roadways in Texas' metropolitan centers are important arteries for transporting agricultural commodities into domestic and international markets. Truck transportation of these commodities contributes to the observed congestion and delay in these urban centers. As an example, cotton, which is a major field crop in Texas, is transported via Dallas-Ft. Worth and Houston roadways to access container transport to the international market, the principal outlet for this commodity. This study examines the feasibility of investment in intermodal terminals in rural Texas with the implications for reducing roadway maintenance costs, greenhouse gases and truck transportation in Texas' metropolitan areas. The analyses show an intermodal terminal in west Texas' intensive cotton production region (Lubbock, Texas) would be economically viable, reducing loaded truck-miles on state roadways, C02 emissions, and truck travel in the Dallas-Ft. Worth metropolitan center.
[ Top ]

Transportation Plan Repository and Archive
John H. Overman, Sandy Tucker, and Matt Sandidge

[PDF, 1.4M, 24 pages]
04.15.11
This project created a repository and archive for transportation planning documents in Texas within the established Texas A&M Repository (http://digital.library.tamu.edu). This transportation planning archive and repository provides planners, researchers, policy makers, and anyone with internet access with ready access to a historic archive of transportation decision-making documents. This project also developed a process for collecting transportation plans, creating repository records, and for uploading the documents. It established a homepage for the collection and developed a consistent set of metadata for elements of the repository records such as agency names, dates, and plan topics. The archive currently contains the long-range transportation plans from metropolitan planning organizations (MPOs) in Texas, Oklahoma, Arkansas, Louisiana, and New Mexico; all are posted in the Texas A&M Repository at http://repository.tamu.edu/handle/1969.1/90584. The plans are available without charge as a public service.
[ Top ]

Facilitating Outreach Programs for Students in Rural Texas

[PDF, 760K, 24 pages]
04.11.11
Since 1998, the Texas Transportation Institute (TTI) has expanded its efforts to build dynamic partnerships among the business, industry, and education sectors. Previous grants from the Southwest University Transportation Center (SWUTC) created pilot programs targeting minority populations in southern and coastal Texas. This current project strives to create long-term outreach programs to students in rural Texas built on these previous efforts. A number of the pilot programs are evolving into active programs funded by other public and private monies. These programs include an Industry to Work Day, participation in career fairs, teachers' workshops, colonias outreach, and assistance with the South Texas Summer Transportation Institute. In order for these programs to be successful, TTI needs to remain an active program partner. This project provided TTI team members with the opportunity to act as facilitators for two years to ensure program success.
[ Top ]

Examining Long-Distance Express Buses as an Extension of and Feeder to Passenger Rail Systems
Laura Higginss, Jeff Warner, Curtis Morgan, and Philip Dunham

[PDF, 2.6M, 82 pages]
04.11.11
One of the mobility challenges facing Texas and other high-population states in the coming years is the rising travel demand along major intercity travel corridors. Increased passenger rail service may help to absorb some of the travel demand from crowded highway and air travel corridors, but service is cost-prohibitive to develop over very long distances. This project explored the potential of using express intercity bus service as an alternative to and an extension of passenger rail service, thus providing a similar type of higher-speed, limited-stop service over long distances with lower development costs than rail.
[ Top ]

Transportation Planning, Policy and Climate Change: Making the Long-Term Connection

[PDF, 829K, 62 pages]
03.31.11
Climate change and variability will have significant impacts on the future mobility of the population in this country. Previous research has found that the transportation sector is not considering adaptation as a solution to these potential impacts. Further, results from a current Southwest Region University Transportation Center (SWUTC) project "Climate Change/Variability Science and Adaptive Strategies for State and Regional Transportation Decision Making" suggest that state and regional transportation planners are not integrating climate change science into their decision and planning processes. This runs counterintuitive to the traditional long-range focus of the planning process. There are several reasons for this situation, including uncertainty in regard to climate science, lack of resources, other problems that require short-term attention, a lack of understanding of the problem, and the desire to avoid the issue as too political. This UTCM project develops a greater understanding of decision and policy processes in regard to climate change and adaptation. Coastal areas in particular are seen as vulnerable to climate change and variability, and thus comprise the regional focus of this study. From a temporal perspective, we are interested in adaptation to abrupt climate change (discrete climate events such a hurricane or storms) as well as longer-term incremental changes traditionally associated with global warming.
[ Top ]

Leveraging Land Development Returns to Finance Transportation Infrastructure Improvements
Jesse Saginor, Eric Dumbaugh, David Ellis, and Minjie Xu

[PDF, 4.5M, 73 pages]
03.31.11
The U.S. faces a crisis in transportation finance. Increasing fuel prices coupled with increasing demand for fuel-efficient cars is driving down fuel consumption, and the associated fuel tax revenues. At the same time, the demand for new transportation infrastructure currently outpaces construction, driving up prices for asphalt, concrete, and steel. This combination of declining revenues and higher costs is causing financing shortfalls for new transportation infrastructure and the maintenance of existing infrastructure. As one effort to bridge this gap, Texas House Bill 3588 authorized the creation of Regional Mobility Authorities (RMAs), which have the ability to apply tax-increment finance (TIF) to capture land development returns associated with land development improvements. This research identified the magnitude of property value increases associated with transportation infrastructure improvements, the assessment levels and investment horizon needed to recapture the costs of transportation infrastructure improvements, and how these revenue streams may be further leveraged to support local and regional investments in transportation infrastructure. This study will be used to enhance ongoing efforts at the state level, including a forthcoming professional training course as well as an academic course on public-private partnerships and funding. The course will be offered within Texas A&M University's Master of Science in Land Development Program and will be offered as a course in Texas A&M's interdisciplinary Graduate Certificate in Transportation Planning, developed with University Transportation Center for Mobility™ funding (see Transportation Research Board TRID Accession #01124562 and #01324966 and http://archone.tamu.edu/laup/Programs/CTP_Overview.html).
[ Top ]

Texas Urban Triangle: Pilot Study to Implement a Spatial Decision Support System (SDSS) for Sustainable Mobility
Hwan Yong Kim, Douglas Wunneburger, Jun Huang, Curtis Morgan and Michael Neuman

[PDF, 2.2M, 46 pages]
03.31.2011
This project addressed sustainable transportation in the Texas Urban Triangle (TUT) by conducting a pilot project at the county scale. The project tested and developed the multi-attribute Spatial Decision Support System (SDSS) developed in 2009 under a previous UTCM project (TRID Online Accession #01324956), in order to determine the most suitable locations for transportation infrastructure networks, including high-speed rail. The research team selected a key county in the Austin-San Antonio segment of the Interstate 35 corridor. The project mapped, using the eight different strategic economic, social, and environmental factors in the model, the most and least suitable locations for the new transportation infrastructure. The outputs of the model could be used by TUT metropolitan planning organization's (MPO's), Texas Department of Transportation (TXDOT), metropolitan visioning groups, high-speed rail providers, and similar entities.
[ Top ]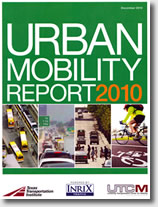 Real-Timing the 2010 Urban Mobility Report
Tim Lomax, David Schrank, Shawn Turner, Lauren Geng, Yingfeng Li, and Nick Koncz

[PDF, 5.8M, 102 pages]
02.28.2011
The Texas Transportation Institute (TTI) is a national leader in providing congestion and mobility information. The Urban Mobility Report (UMR) is the most widely quoted report on urban congestion and its associated costs in the nation. The report measures system delay, wasted fuel, and the annual cost of congestion in all U.S. urban areas. The data that are available to analyze transportation performance are evolving, however, and the UMR procedures need to adopt the new data sources to provide the best possible estimate of mobility conditions. Private-sector companies advertising the availability of nationwide average speed data on many highways in the United States compete with the UMR for congestion coverage. Through this research, TTI has developed a partnership with one of the private-sector speed companies, INRIX. The TTI and INRIX databases were matched and used to re-compute the UMR statistics based on actual speed data for all days and all major urban roads. This research has improved the estimates of congestion and its costs, and has improved the timeliness of U.S. traffic congestion estimates.
[ Top ]

Development of a Mileage-Based User Fee Research Website

[PDF, 544K, 14 pages]
01.31.2011
This project enhanced the UTCM's Mileage-Based User Fees (MBUF) website (http://utcm.tamu.edu/mbuf) so that it can act as a "one-stop shop" for individuals interested in exploring the topic or professionals looking to keep track of the latest developments in the field. Updates to ongoing MBUF research pilot studies and research are obtained through researchers' well-established contacts with other researchers in the field and are posted on the website. Journal articles, media coverage, and various commentaries on MBUFs are also provided on the website. Furthermore, interested parties may join a mailing list that provides weekly updates on the subject or can participate in a newly installed discussion forum.
[ Top ]
2010

Promoting Workforce Development for the Transportation Profession through a Multi-University/Agency Partnership
Raghava Kommalapati, Judy Perkins, Deborah Jasek, Robert Benz, and William Stockton

[PDF, 5.9M, 103 pages]
12.15.2010
This multi-university/agency partnership between Prairie View A&M University (PVAMU), Texas Transportation Institute (TTI), and Texas A&M University (TAMU) builds on the progress made through the UTCM seed funding to produce high-quality transportation professionals from underrepresented groups through research and other real-world experiences. This partnership strengthened a pair of high school summer program experiences at Prairie View A&M University. One program is the existing Summer Transportation Institute (STI) Program, and the second is the STI Scholars program, initiated as part of the previous UTCM project and further developed in this project. This project produced a network of (i) former students, (ii) educational professionals (counselors and teachers), and (iii) public and private agencies including academia to ensure long-term sustainability of the program. This program can serve as a model for other outreach programs at other locations across the nation.
[ Top ]

Texas Urban Triangle: Creating a Spatial Decision Support System for Mobility Policy and Investments that Shape the Sustainable Growth of Texas
Michael Neuman, Elise Bright, and Curtis Morgan

[PDF, 2.5M, 38 pages]
11.16.2010
This project developed a GIS-based Spatial Decision Support System (SDSS) to help local, metropolitan, and state jurisdictions and authorities in Texas understand the implications of transportation planning and investment decisions, and plan appropriately for the future. It provides an easily accessible, graphically represented, interactive database on infrastructural, demographic, environmental, agricultural, economic, hazard, and land use factors that affect transportation corridor location decisions. Specifically, the project team created an Internet-based SDSS that will allow users to identify and visualize geographically those critical issues related to locating single mode or multi-modal surface transportation corridors for freight and passengers. Decision makers will be able to test multiple attributes in the decision making model to compare multiple transportation corridor scenarios for optimal mobility based on the decision parameters developed in the model. Jurisdictions and transportation authorities will use this tool to guide future decisions on transportation and its impacts on urban growth in a sustainable manner so that the need for economic development is balanced with environmental protection and human health, safety, and welfare. The system also helps address important research questions related to where future growth will occur in the Texas Urban Triangle, and at what scale, densities, and uses and to study selected impacts of this growth. Finally, the SDSS demonstrates the usefulness of WebGIS in facilitating sustainable transportation planning, policy making and investment decisions.
[ Top ]

Making Mobility Improvements a Community Asset: Transportation Improvements Using Context-Sensitive Solutions
Brian Bochner, Beverly Storey and Angeline Lehnert

[PDF, 32.49M, 118 pages]
Supporting documentation can be found at http://www.slideshare.net/TTI-UTCM/tag/08-14-03
10.20.2010
Major mobility improvements are often desired and even sought after by the communities which they serve. Any opposition to such projects usually occurs at the local level from very vocal citizenry. This opposition can cause delays, redesign, increased costs, and sometimes leaves a tarnished image for the sponsoring agency. Context-sensitive solutions (CSS) grew out of a national symposium (Thinking Beyond the Pavement) to develop an approach to help make major mobility improvements more compatible, more supportive and more acceptable to communities. Use of the CSS approach—involving stakeholders in project development from the beginning—was included in SAFETEA-LU as a policy. However, implementation at the state level has been inconsistent, and a 2007 audit of states showed that DOTs of only nine states (plus District of Columbia) have integrated CSS into their ongoing processes, while 15 state DOTs had yet to start. This project was developed to disseminate knowledge, experiences, and reasons for use and benefits of CSS through university courses and technology transfer to facilitate its use by agencies and practitioners in gaining community acceptance of mobility improvement projects.
[ Top ]

Valuing Public Sector Risk Exposure in Transportation Public-Private Partnerships
Rafael M. Aldrete, Arturo Bujanda, and Gabriel A. Valdez-Ceniceros

[PDF, 1.9M, 76 pages]
10.16.2010
This report presents a methodological framework to evaluate public sector financial risk exposure when delivering transportation infrastructure through public-private partnership (PPP) agreements in the U.S. The framework is based on U.S. and international best practices to quantify public sector risk exposure in infrastructure. Transportation agencies in the U.S. have not developed structured processes to measure risk exposure and to integrate the cost of risk bearing into the process of evaluating PPP projects. More specifically, U.S. transportation agencies—including agencies in Texas—currently lack a well-documented approach to consistently evaluate and account for public sector financial risk exposure in a PPP, and a methodology to incorporate the cost of risk bearing in the analysis of PPP projects.
[ Top ]

Facilitating Creation of Transit System Technology User Groups
Jeffrey Arndt, Suzie Edrington, and Matt Sandidge

[PDF, 685K, 30 pages]
10.15.2010
In recent years, a number of rural transit providers in Texas have purchased computer software to enhance trip scheduling and dispatching. The purpose of this research was to inventory current technology applications and vendors by transit agency and to assess the current use(s) of these applications. The researchers also documented plans for technology upgrades or expansions and identified the current technology issues faced by providers. Texas Transportation Institute (TTI) researchers contacted the rural and state-funded urban transit districts in Texas to determine the types of technology currently used or in procurement. Researchers provided the results of this research to all rural and state-funded urban transit districts to enable providers to share and gain from their mutual experiences and to leverage influence with software vendors to address mutual concerns and interests. Researchers facilitated a panel discussion at the Texas Department of Transportation, Public Transportation Division's Semi-Annual Transit Provider Meeting in July 2010 as a way to share experiences about technology implementation. TTI researchers recruited transit agency representatives to serve on the panel. Based on the panel discussion and research findings, researchers recommend technology mentoring and Web-based user community support programs. These programs will support the continued and expanded implementation of technology among rural and small urban transit agencies.
[ Top ]

Developing an Interdisciplinary Certificate Program in Transportation Planning
Forster Ndubisi and Eric Dumbuaugh

[PDF, 668K, 38 pages]
09.23.2010
This project developed and implemented a graduate certificate in transportation planning. Texas A&M University currently offers instruction in transportation through its Master of Urban Planning and Civil Engineering programs; however, there is a need for specialized instruction tailored to meeting the emerging needs of the transportation industry. The Certificate in Transportation Planning program fills this need by providing students with a substantive base of knowledge needed to be broadly successful in the transportation profession, as well as with specialized instruction tailored to building student skills and capabilities in three critical areas: transportation systems planning, transportation and urban design, and transportation policy. The certificate was developed by the Department of Landscape Architecture and Urban Planning in the College of Architecture in partnership with the Texas Transportation Institute, the Zachry Department of Civil Engineering, and the Bush School of Government and Public Service. This program is open to any graduate student at A&M with an interest in transportation.
[ Top ]

Biofuels Energy Policy and Grain Transportation Flows: Implications for Inland Waterways and Short Sea Shipping
Dmitry Vedenov, Stephen Fuller, Gabriel Power, Zafarbek Ahmedov, Sharada Vadali, and Mark Burris

[PDF Report, 735K, 28 pages]


[PDF Supplementary Data for Report, 801K, 137 pages]


[Excel Supplementary Data File for Report, 1.3M]
09.16.2010
This project develops a foundation for analysis of the effects of U.S. biofuel energy policy on domestic and international grain flows and patterns. The primary deliverable of this project is an updated and expanded spatial equilibrium model of world grain economy. The updated model reflects recent changes in the dynamics of grain production, consumption, and transportation particularly in reaction to explosive growth of the biofuel market in the U.S. An improved and modified spatial equilibrium model will be extremely useful in addressing a variety of questions with respect to transportation infrastructure, traffic congestion, and international trade issues. In particular, principal investigators plan to use the improved model as a platform for future research in order to gain insight into potential long-term effects of the current energy policy on grain and biofuel-related transportation flows on inland waterways, outline requirements and justifications for targeted development of transportation infrastructure in order to mitigate projected traffic congestion, and examine potential opportunities for switching rail and truck-transported commerce on North American transport corridors to the inland and intra-coastal waterways.
[ Top ]

Texas Transit Leadership Initiative
Linda Cherrington, Jeffrey Arndt, Suzie Edrington and Ryan Taylor

[PDF, 586K, 82 pages]
08.03.2010
The purpose of this project was to research and develop a leadership development program that addresses the needs of rural and small urban transit managers at each stage of a career along a continuum from new employees just entering the industry to senior staff members who are anticipating retirement. The project goal was to establish a sustainable leadership development program that has value to the transit industry in Texas. The project was a collaborative effort of Texas Transportation Institute and the Texas Department of Transportation, Public Transportation Division (TxDOT-PTN).
[ Top ]

Bluetooth®‐Based Travel Time/Speed Measuring Systems Development
Darryl D. Puckett and Michael J. Vickich

[PDF, 4.9M, 53 pages]
06.30.2010
Agencies in the Houston region have traditionally used toll tag readers to provide travel times on freeways and High Occupancy Vehicle (HOV) lanes, but these systems require large amounts of costly and physically invasive infrastructure. Bluetooth® is a widely used technology embedded in cellular telephones and in-vehicle applications for exchanging data over short distances. The initial demonstrations of wireless address matching were primarily designed to prove the ability for Bluetooth technology to produce matches between two points on a roadway outfitted with the proper Bluetooth reader equipment, with a resulting travel time and speed calculated. Costs for Bluetooth travel time measurement systems are one to two orders of magnitude below costs for traditional toll tag reader equipment, depending on the application. This cost advantage could significantly lower the threshold for hundreds of agencies and private entities to enter the travel time measurement market, but there is little guidance on the application. Development and testing of various prototype software and hardware platforms were conducted to use the anonymous Media Access Control (MAC) address from each Bluetooth device to measure and report real-time traffic conditions. Several issues were examined and resolved in order to develop a true first generation product.  The development of this method and process is pending patent approval.
[ Top ]

Investigating the Effect of Freeway Congestion Thresholds on Decision-Making Inputs

[PDF, 3.8M, 168 pages]
05.31.2010
Congestion threshold is embedded in the congestion definition. Two basic approaches exist in current practice for setting the congestion threshold. One common approach uses the "free-flow" or unimpeded conditions as the congestion threshold. Another approach uses target or "acceptable" conditions. The limited research that has been conducted on the congestion threshold issue focuses on operational problems or policy debates, but relatively little investigation of the effect on decision-making for transportation investment and resource allocation.
This research investigated the differences inherent in the threshold choices using detailed freeway data from seven metropolitan areas. Congestion performance measures of delay per mile, Travel Time Index and Planning Time Index were evaluated. This research specifically examined: 1) the ranking values of congestion measure for different congestion thresholds under a variety of real-world travel time distributions, 2) the relationship between change of congestion threshold and change of performance measure, and 3) the appropriateness of using speed limit as a congestion threshold choice by evaluating the peak and off-peak average speed changes in relation to a speed limit change in Houston, Texas.
[ Top ]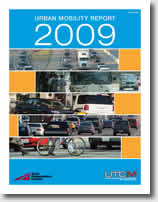 Improving Mobility Information with Better Data and Estimation Procedures
Tim Lomax, Bruce Wang, David Schrank, William Eisele, Shawn Turner, David Ellis, Yingfeng Li, Nick Koncz, and Lauren Geng

[PDF, 1.2M, 90 pages]
03.31.2010
The Texas Transportation Institute (TTI) continues to be a national leader in providing congestion and mobility information. The information produced by TTI is used to communicate the issues of urban mobility at all levels of government in the U.S. and by both industry and non-industry professionals when discussing mobility topics. The transportation field continues to evolve with more technological advancements affecting travel on the roadways and the data collected. This project incorporates the speed data from some of these new technologies into the Urban Mobility Report (UMR) to ensure that the report remains the preeminent source on the subject. The 2009 Urban Mobility Report utilizes the current speed estimation methodology, but future reports may be able to incorporate some archived speed information in place of the current estimated speeds. With the fuel price increases of the past few years, an updated analysis of the effects of fuel price fluctuations on travel demand and congestion are being included in the UMR. TTI has developed a methodology for estimating the commodities that are flowing in trucks and the associated traffic delay throughout our nation's cities. However, at this time, it is unclear how to utilize this information in decision-making. Some analysis is being performed to determine how to utilize this truck commodity flow information.
[ Top ]

Methodology and Guidelines for Regulating Traffic Flows under Air Quality Constraints in Metropolitan Areas
Yunlong Zhang, Qi Ying, Jinpeng Lv and Sri Harsha Kota

[PDF, 2.1M, 89 pages]
02.28.2010
This project developed a methodology to couple a new pollutant dispersion model with a traffic assignment process to contain air pollution while maximizing mobility. The overall objective of the air quality modeling part of the project is to develop a model to predict the air quality at receptor sites in metropolitan areas using traffic data from a coupled traffic model and real time meteorological data. Most of the air dispersion models in use do not have a full description of the physical and chemical processes to describe the formation and transformation of pollutants in the metropolitan areas relating to traffic flow and thus cannot provide complete information that is necessary in traffic planning and regulating. The reactive dispersion air quality model developed in this project includes a state-of-the-art gas chemistry mechanism (Statewide Air Pollution Research Center, or SAPRC, model) to predict the ozone, NOx, CO, benzene, acetaldehyde, formaldehyde and 1,3-butadine concentrations, and a complete particulate matter module with thermal dynamics to predict the concentrations of primary and secondary particulate pollutants including diesel particulate matter. With the air quality model developed in this project, traffic assignments can be conducted taking air quality into account. The air quality can be considered as a form of constraint that limits the pollutants under certain acceptable levels in parts of the transportation network. This consideration will be an added constraint in addition to the roadway segment capacity constraint in the assignment process. The air quality can also be considered as an additional objective function while assigning traffic flow in the metropolitan transportation network.
[ Top ]
2009

Valuation of Buyout Options in Comprehensive Development Agreements
Gabriel Power, Mark Burris, Sharada Vadali and Dmitry Vedenov

[PDF, 549K, 34 pages]
12.14.2009
This project investigates the feasibility of and develops an economic valuation model for buyout options in Comprehensive Development Agreements (CDAs). A CDA is a form of public-private partnership in which the right to price and collect revenues from toll roads is leased to a private entity for a finite but lengthy period of time in exchange for providing local and state governments with a quick influx of cash and/or additional infrastructure. Uncertainty associated with such long-term leases is of substantial public concern. In particular, there is a sentiment that the state and/or municipal governments may not be sufficiently compensated for the forfeited development opportunities and the possibility of lost revenue due to higher-than-expected future growth during the lifetime of the lease. An under-studied aspect of the problem is the feasibility and economic value of an option for the government to buy back the leased infrastructure at a future date prior to lease expiration. Such an option would give the public sector additional control over the future use of leased facilities and address potential concerns regarding long-run uncertainty and possible unforeseen windfalls for the private sector. The developed buyout option valuation model can aid transportation policymakers in decisions on leasing public infrastructure. Project deliverables include: feasibility assessment of buyout options, an economic valuation model for buyout option in a CDA, and identification of methods, data, and parameters required to apply the model to evaluation of buyout options in actual (planned or existing) CDAs.
[ Top ]

Freeway Bottleneck Removals: Workshop Enhancement and Technology Transfer
Scott A. Cooner, Carol H. Walters, Poonam B. Wiles, and Yatin K. Rathod
Project Website: http://www.bottleneckworkshop.org

[PDF, 1.74M, 46 pages]
12.10.2009
This project enhanced and improved an existing Freeway Bottleneck Workshop by: (1) gathering further data on implemented bottleneck removals to augment the case study database; and (2) improving workshop delivery through better graphics, video, and overall professional appearance. The enhanced Freeway Bottleneck Workshop was tested with enthusiastic results in four locations. The half-day workshop allows participants from various disciplines (design, operations, and planning) and agencies (city, county, state, and federal) to learn about bottleneck identification, causes, low-cost solutions, analysis and evaluation, case studies, and guidelines for successful projects. Workshop participants also have the opportunity to work in teams to analyze a real-world freeway bottleneck and to discuss opportunities for bottleneck removal in their metropolitan area. The final component of the project developed a website (http://www.bottleneckworkshop.org) and educational module for university students and professors that will continue the technology transfer component.
[ Top ]

A Guide to Transportation Funding Options: Phase 2
Tina Geiselbrecht and Richard T. Baker

[PDF, 524K, 13 pages]
10.23.2009
This project is a continuation of a project that provided a one-stop shop website, A Guide to Transportation Funding Options (http://utcm.tamu.edu/tfo), detailing transportation funding options and their applicability in an easy-to-use format. The first phase of this project compiled information on transportation funding options for highway funding. This subsequent phase provided similar information for other modes of transportation including transit, rail, aviation, and ports. The information is presented in a format that is user friendly and easily accessible via the Internet for anyone interested in project financing methods.
[ Top ]

Mileage-Based User Fees – Defining a Path toward Implementation (Phase 1: Defining a Research Strategy)
Richard T. Baker and Ginger Goodin

[PDF, 434K, 25 pages]
11.30.2009
This project was the first of a two-phase research effort composed of three interrelated components: 1) a technology assessment, 2) an institutional assessment, and 3) a one-day implementation-focused symposium. Each component builds from the mileage-based user fee framework developed in 2008 with funding from the UTCM (see report on this page). This report documents initial progress on these three activities through February 2009.
[ Top ]

Mileage-Based User Fees – Defining a Path toward Implementation (Phase 2)
This project was the second of a two-phase research effort composed of three interrelated components: 1) a technology assessment, 2) an institutional assessment, and 3) a one-day implementation-focused symposium. Each component builds from the mileage-based user fee framework developed in 2008 with funding from the UTCM (see report on this page). Reports on the technology assessment and the instituional assessment appear below.
Report Part 1: An Assessment of Technology Issues
Michael Bomberg, Richard T. Baker and Ginger Goodin

[PDF, 1.5M, 41 pages]
10.23.2009
This report reviews technology options for a mileage-based user fee system in the state of Texas. The report assesses the range of possible mileage-based user fee system architectures. These architectures are considered at the logical level (i.e., the flow and transformation of information from raw data describing roadway use to an end bill) with the goal of demonstrating how the process flow of each architecture affects its ability to meet key policy objectives. The report also explores issues related to payment, enforcement, the deployment of on-board units in vehicles, and the potential for technology enabling a mileage-based user fee to be a platform for other value-added services. Finally, the report concludes by identifying key policy questions for Texas that must be addressed before pilot programs can be developed.
[ Top ]
Report Part 2: An Assessment of Institutional Issues
Ginger Goodin, Richard T. Baker and Lindsay Taylor

[PDF, 568K, 69 pages]
12.02.2009
This document covers the institutional assessment portion of the research effort.  It was conducted in conjunction with the technology assessment and involved the study of various user fee frameworks in place throughout the United States and an analysis of the various institutional issues to be considered with mileage-based user fee development, implementation and eventual administration. This report is meant to serve as a tool for policy makers and other interested parties who are considering mileage-based user fees as a potential means of generating transportation related funding and wish to gain a better understanding of the issues surrounding them.
[ Top ]

Estimating the Benefits of Managed Lanes
Mark Burris and Sunil Patil

[PDF, 2.1M, 79 pages]
09.30.2009
Stated preference (SP) studies developed to estimate travelers' value of travel time savings (VTTS) on managed lanes (ML) may underestimate the VTTS. This study investigates survey design strategies and differentiating the VTTS for ordinary and six common urgent situations faced by the travelers in an attempt to improve on VTTS estimation. An internet based survey for travelers on Houston's Katy Freeway was used to collect data for this study.
[ Top ]

A Special Topics Course on Intelligent Transportation Systems for the Zachry Department of Civil Engineering of Texas A&M University
Kevin Balke and Robert Brydia

[PDF, 9.4M, 185 pages]
08.31.2009
With Intelligent Transportation Systems (ITS), engineers and system integrators blend emerging detection/surveillance, communications, and computer technologies with transportation management and control concepts to improve the safety and mobility of the surface transportation system. Individuals responsible for developing, deploying, and managing ITS projects need a solid foundation not only in transportation engineering concepts and principles but also systems engineering, communications, and technology. This project developed a special topics course on the planning, design, and implementation of ITS projects for transportation management. This course is a graduate-level survey course in which students are provided with the basic knowledge and concepts needed to plan, design, and implement an ITS project that can be deployed in the field.
[ Top ]

Urban Mobility Report 2009
Project Title: Improving Mobility Data and Benefit Estimation Procedures
Tim Lomax, Shawn Turner, David Schrank, Bill Eisele and David Ellis

[PDF, 4.7M]
07.31.2009
Congestion is a problem in America's 439 urban areas, and it has gotten worse in regions of all sizes. There are many congestion problems but there are also many solutions. The most effective strategy is one where agency actions are complemented by efforts of businesses, manufacturers, commuters and travelers. The best approach to selecting strategies is to identify projects, programs and policies that solve problems or capitalize on opportunities. The strategies must address the issue that the problems are not the same in every region or on every day – the variation in travel time is often as frustrating and costly as the regular "daily slog" through traffic jams. The 2009 Urban Mobility Report clearly demonstrates that all the solutions are not being implemented fast enough.
[ Top ]

Dispatching Demand Response Transit Service: Maximizing Productivity and Service Quality Guidebook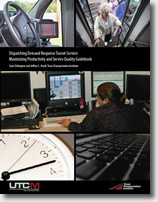 Project Title: Improved Demand Response Productivity and Service Quality Through Dispatch Strategies
Suzie Edrington and Jeffrey C. Arndt

[PDF, 1.6M, 72 pages]
03.31.2009
The ability of transit agencies to staff dispatch effectively and use technology to its full advantage is critical in responding proactively as service changes occur and in making sound routing decisions. Sound routing decisions result in improved productivity and cost-effective service delivery. A modest 3% improvement in service productivity would save the average rural demand response transit agency approximately $65,000 annually. This project focused on improving productivity while maintaining service quality. Researchers collected data from 42 demand response rural and small urban transit agencies regarding operations and use of technology. Case studies of five representative agencies focused on: 1) dispatcher goals and objectives, 2) dispatch-driver policies and procedures, 3) team responsibilities and expectations, and 4) reports and material collection. This resulting guidebook describes the impact of maximizing productivity, development of policies and procedures that affect productivity, service delivery strategies that impact productivity, dispatch performance measurement, an assessment tool for productivity elements of dispatch, and steps to implement a productive dispatch operation. The guidebook will also be available via the Texas Transportation Institute (TTI) website.
[ Top ]

Expansion of the Border Crossing Information System
Rajat Rajbhandari, Juan Carlos Villa and Rafael Aldrete-Sanchez

[PDF, 5.6M, 112 pages]
03.15.2009
There is no reliable system in place to measure and report border crossing times to either commercial trade or travelers planning to cross the U.S.-Mexico border. This research project, in combination with three other already funded and ongoing projects, provides a prototype of such a system. The result is a real-time international border crossing travel time information system prototype. In addition to real-time information, the project serves as a valuable data source for three other important activities: a) estimating the economic impact of border crossing delay and potential improvements, b) validating dynamic cross-border traffic assignment models, and c) long range transportation planning. This project designed the mechanisms to automatically capture border crossing times for commercial vehicles and convert those results to user-friendly formats that can be shared with stakeholders involved in the U.S.-Mexico international border crossing process for operations, planning and research purposes.
[ Top ]

Transit Services for Sprawling Areas with Relatively Low Demand Density: A Pilot Study in the Texas Border's Colonias
Luca Quadrifoglio, Shailesh Chandra and Chung-Wei Shen

[PDF, 1.14M, 90 pages]
02.28.2009
The colonias along the Texas-Mexico border are one of the most rapidly growing areas in Texas. Because of the relatively low-income of the residents and an inadequate availability of transportation services, the need for basic social activities for the colonias cannot be properly met. The objective of this study is to examine the potential demand for an improved transportation service and evaluate the capacity and optimum service time interval of a new demand responsive transit "feeder" service within one representative colonia, El Cenizo. We present a comprehensive analysis of the results of a survey conducted through a questionnaire to evaluate the existing travel patterns and the potential demand for a feeder service. The results from the subsequent simulation analysis showed that a single shuttle would be able to comfortably serve 150 passengers/day and that the optimal headway between consecutive departures from the terminal should be between 11-13 minutes for best service quality. This exploratory study serves as a first step toward improving transportation services within these growing underprivileged communities, especially for those with demographics and geography similar to our target area of El Cenizo.
[ Top ]
2008

A Systems Approach to Risk Reduction of Transportation Infrastructure Networks Subject to Multiple Hazards
Mauricio Sanchez-Silva and David V. Rosowsky

[PDF, 3.6M, 70 pages]
12.31.2008
In this project, researchers developed a model transportation infrastructure network that can be used to design efficient risk management strategies that ensure acceptable system performance (e.g., in terms of expected damage or recovery times) when subject to individual, simultaneous, or sequential threats, either natural or man-made. This study explores the performance of infrastructure networks using a systems approach; that is, networks will not be traditionally modeled as a collection of separate elements, but rather as a dyanmically interacting whole. This project develops new analytical methods built on a hierarchical structure of the system that focuses on the interaction and dependencies between components. These methods are used to characterize and model the emergent properties of the entire system. This project integrates analysis of network performance with that of individual network components. The transportation network of Texas is used as an illustrative example of some parts of the model.
[ Top ]

Graduate Certificate in Transportation Planning
Forster Ndubisi and Eric Dumbaugh

[PDF, 210K, 31 pages]
12.13.2008
This project developed and implemented a graduate Certificate in Transportation Planning at Texas A&M University. The certificate program meets the growing need in transportation workforce development for students with a broad, interdisciplinary foundation as well as specialized instruction tailored to building expertise in three critical areas: Transportation Systems Planning, Transportation and Urban Design, and Transportation Policy. The certificate was developed through a partnership of three academic units at Texas A&M and researchers at Texas Transportation Institute. The Transportation Planning Certificate Program is an option for any graduate student at Texas A&M with an interest in transportation.
[ Top ]

Impact of Reconstruction Strategies on System Performance Measures: Maximizing Safety and Mobility While Minimizing Life-Cycle Costs
Ivan Damnjanovic, Andrew J. Wimsatt, Sergiy I. Butenko and Reza Seyedshohadaie

[PDF, 799K, 45 pages]
12.08.2008
The objective of this research is to develop a general methodological framework for planning and evaluating the effectiveness of highway reconstruction strategies on the system's performance measures, in particular safety, mobility, and the total cost of network rehabilitation. Transportation networks are characterized by uncertainty that stems from different sources and transportation planners should consider risks involved in uncertainty in model parameters. In this research, Conditional Value at Risk (CVaR) is used to quantify and measure the risk in pavement performance and travel demand. First, a method of constructing risk-based rehabilitation policies for a network of pavement facilities that ensures a specific quality level is introduced. Second, to enhance network mobility, several optimization models to minimize travel time for all paths connecting the same origin and destination pair is presented. Finally, to improve network safety during capacity expansion decisions, two models are presented to reduce accident rate by changing the ratio of flow to the link capacity to reduce injury and fatal accidents and property damage accidents.
[ Top ]

Nationwide Examples of State and Local Funds for Mass Transit

[PDF, 6.7M, 199 pages]
12.04.2008
One of the transportation challenges facing Texas is the identification of adequate funding for mobility projects. During the 80th Texas Legislature, several proposals were made to address mass transit funding for the metropolitan areas of the state. The chairman of the Texas Senate Committee on Transportation and Homeland Security requested Texas Transportation Institute update previous research on national examples for funding regional transit and provide additional information on regional rail projects. The research is presented in this paper documenting nationwide examples for funding mass transit and regional rail. The research findings provide background information for members of the Senate Committee as they consider and make decisions for funding mass transit in Texas.
[ Top ]

Feasibility of Mileage-Based User Fees: Application in Rural/Small Urban Areas of Northeast Texas
Richard Baker, Ginger Goodin, Eric Lindquist and David Shoemaker

[PDF, 598K, 57 pages]
10.31.2008
This study explores the application of mileage-based user fees, or vehicle-miles traveled (VMT) fees, as an alternative to the fuel tax in rural and small urban areas.  The purpose of the study is to identify the issues associated with implementation of a potential new transportation funding system so that public and political concerns in rural communities can be addressed.
[ Top ]

Regional Coordination Workshops
John H. Overman, Linda Cherrington, Jeffrey Arndt, Suzie Edrington, Ryan Taylor, Laura Higgins, Carol Lewis and Gwen Goodin
Project Website:
http://www.regionalserviceplanning.org/
coordination/workshops/07_23-24_2008/

[PDF, 3.0M, 47 pages]
10.06.2008
There is a demonstrated need for outreach, education, training and technology transfer for transportation professionals involved in regional human service transit coordination. This project provided training and technology transfer based on recent research efforts to improve regional coordination and transit services.
The purpose of the Regional Coordination Workshop was to improve effectiveness of transportation service, generate efficiencies in operation, enhance customer service and satisfaction, and encourage cooperation and coordination through use of technology. The sessions used themed learning tracks and covered the topics of effective partnerships, coordinated planning, technology, marketing/outreach, and public involvement.
The Regional Coordination Workshop was held on July 23 and 24, 2008, in Austin, Texas, and was attended by 172 participants from a variety of agencies and organizations involved in regional human service transit coordination. Regional Coordination Workshop materials and presentations can be found on the project website.
[ Top ]

Partnering to Promote Workforce Development for the Transportation Profession
Raghava Kommalapati, Judy Perkins, William Stockton, Robert Benz, and Deborah Jasek

[PDF, 2.7M, 34 pages]
08.31.2008
A multi-university/agency partnership among Prairie View A&M University, (PVAMU), Texas Transportation Institute (TTI) and Texas A&M University (TAMU) aims to produce high quality transportation professionals from underrepresented groups. This partnership strengthens the existing FHWA-sponsored Summer Transportation Institute (STI) in existence at PVAMU since 2000, a proven program for attracting bright young minds for summer experiences during high school. This seed grant augments the current STI program at PVAMU by improving the curriculum, tracking graduates, increasing marketing efforts and developing a second year STI experience called STI Scholars.
[ Top ]

A Guide to Transportation Funding Options

[PDF, 513K, 7 pages]
04.30.2008
Phase I of an on-line guide to transportation financing. This Guide is intended to serve as a concise reference for decision-makers. It simply and clearly explains financing options across all levels of government. Phase I covers highway funding options. A review of all other modes of surface transportation will follow in future phases. The Guide is housed on the UTCM website and maintained by the UTCM.
[ Top ]
2007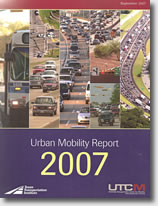 Urban Mobility Report 2007
Project Title: Enhanced Urban Mobility Report
Timothy J. Lomax & David L. Schrank

[PDF, 760K, 49 pages]
09.18.2007
The Urban Mobility Report (UMR) is the nation's most definitive analysis of mobility and traffic congestion on freeways and major streets in 85 cities, produced annually by Texas Transportation Institute and used widely in research and development of transportation and mobility solutions. This project expanded the 2007 UMR to include the following refinements, reports and data:
Refine the methods used to analyze the cost of truck freight congestion.
Refine the operational treatment effect (e.g., ramp metering, traffic signal coordination, incident management, access management) methodology as new studies become available.
Add minor arterial streets to the database and congestion statistics.
Add estimates of congestion in all U.S. urban areas that are not addressed individually in the Report to create a "national" congestion estimate.
Identify the role of reliability as one aspect of the congestion problem.
Extend report and website material to describe the solutions to congestion.
Identify the scope of the mobility problem and the effect of alternative solutions.
[ Top ]