Volume 3, Number 1 – January 2009
Some documents are made available in PDF format. You will need Adobe Reader to view them.


[ PDF for viewing, 496K ]


[ PDF for printing, 1.9M ]
Director's Message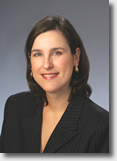 Melissa S. Tooley,
Center Director
As UTCM moves into its third year, here are a few of the exciting research, education and technology transfer initiatives we've been developing:
In October, UTCM's Executive Committee reviewed 39 Preliminary Proposals submitted in the call for FY09 proposals. Sixteen excellent projects were funded, with collaborative teams spanning TTI, the Texas A&M campus, other Texas universities, TxDOT and private industry. A listing of these projects can be found below.
On the innovative finance front, increasing infrastructure needs combined with decreasing gas tax revenue creates a critical need for alternative methods of financing transportation improvements. As part of Ginger Goodin's UTCM informative and timely research on mileage-based user fees, UTCM will co-host a symposium in April to report and discuss the state of the practice in this area. More information on the Mileage-Based User Fee Symposium can be found here in this issue.
As infrastructure financing debates continue in Texas and across the country, UTCM is significantly contributing to discussion among policy makers. Two of our investigators have presented their research findings to committees of the Texas legislature in recent weeks: Ginger Goodin presented testimony on her work with mileage-based user fees, and Linda Cherrington evidenced ways to fund mass transit projects, using data from her UTCM research project described in the Spotlight on Technology Transfer article below. We are proud that our researchers are involved in such relevant and timely research, and that we have the opportunity to share it.
In this issue of Upwardly Mobile, we've also highlighted some of our research and T2 activities, as well as what one very busy student has been up to. And while this issue provides glimpses of how UTCM is positively impacting mobility, more news and details are always just a click away on UTCM's website at http://utcm.tamu.edu.
Innovatively Yours,
Melissa S. Tooley
[ Top ]
Sixteen UTCM Projects Awarded for FY09
UTCM's Request for Preliminary Proposals in Fall 2008 yielded 39 submissions by the September 22nd deadline. The collection of proposals was reviewed and ranked by the UTCM Executive Committee and Advisory Board. Based on these rankings and other criteria, Formal Proposals were invited in late October 2008 by the UTCM Executive Committee and Director.
Sixteen projects were selected for funding for FY09 by the UTCM Executive Committee in December 2008. These projects total over $1 million, span all of UTCM's focus areas and include projects addressing research, education and technology transfer. The projects include collaborative efforts of researchers and students in TTI (including four of TTI's urban offices throughout Texas), four academic departments at Texas A&M University, at least one other Texas university, TxDOT and private industry.
The listing of all FY09 projects follows. For more information, including all current and completed UTCM projects, project abstracts and biographical information on UTCM PIs, see the "Projects" and "About Us" on the menu at top left.
New UTCM Projects
RESEARCH
"Mileage-Based User Fees – Defining a Path Towards Implementation (Phase 1)"
G. Goodin • 10/1/08 - 2/28/09 • $60,000
"Transit Leadership Initiative"
L. Cherrington • 1/1/09 - 8/31/09 • $27,000
"Improving Mobility Information with Better Data and Estimation Procedures"
T. Lomax, B. Wang • 1/1/09 - 11/30/09 • $150,000
"Investigating the Effect of Freeway Congestion Thresholds on Decision-Making Inputs"
T. Qu • 1/1/09 - 12/31/09 • $40,000
"Texas Urban Triangle: Creating a Spatial Decision Support System for Mobility Policy and Investments that Shape the Sustainable Growth of Texas"
M. Neuman, E. Bright, C. Morgan • 2/1/09 - 5/31/10 • $100,000
"Mileage-Based User Fees – Defining a Path Towards Implementation (Phase 2)"
G. Goodin • 3/1/09 - 7/31/09 • $40,000
"Statistical Analysis of Waterway Network Congestion: Causes and Costs"
X. Wu, S. Fuller • 3/1/09 - 8/31/10 • $79,656
"Developing Performance Measures for Sustainable Freight Movement"
J. Zietsman, M. Farzaneh • 6/1/09 - 11/30/10 • $80,000
"Leveraging Land Development Returns to Finance Transportation Infrastructure Improvements"
J. Saginor • 6/1/09 - 1/31/11 • $100,000
"Multiple Depot Vehicle Routing with Applications to Paratransit and Rural Transportation"
S. Darbha, L. Quadrifoglio • 9/1/09 - 8/31/10 • $80,000
"Impact of Gas Prices on Toll Road Use"
M. Burris • 9/1/09 - 12/31/10 • $58,158
TECHNOLOGY TRANSFER
"A Guide to Transportation Funding Options: Phase 2"
T. Geiselbrecht • 1/1/09 - 8/31/09 • $32,300
"Facilitating Creation of Rural Transit System Technology User Groups"
J. Arndt • 1/1/09 - 3/31/10 • $36,000
"Facilitating Outreach Programs for Minority Students in Rural South Texas"
D. Jasek • 1/1/09 - 12/31/10 • $29,000
"Development of an Enhanced Toll Project Screening Model"
C. Beaty • 1/5/09 - 7/31/09 • $65,364
"The Transportation Economy: Past & Future"
R. Cole, D. Dennis • 1/7/09 - 4/1/10 • $50,000
[ Top ]
SPOTLIGHT ON EDUCATION:
UTCM Graduate Student Conducts Research on Multiple Projects
UTCM has offered research opportunities to dozens of graduate students through UTCM research projects. One such student, Angie Lehnert, has participated in three different UTCM research projects.
Angie, a Masters of Urban Planning student in Texas A&M's College of Architecture, first conducted research on Brian Bochner's project "Making Mobility Improvements a Community Asset." Bochner reports, "Angie's research and summaries of past use of context sensitive solutions (CSS) in a variety of transportation projects are already being used in workshops and presentations on CSS."
Angie then participated in Suzie Edrington's demand-response productivity project. There she conducted initial surveys, developed a transit agency database and a method for case study selection, and conducted literature reviews and site visits.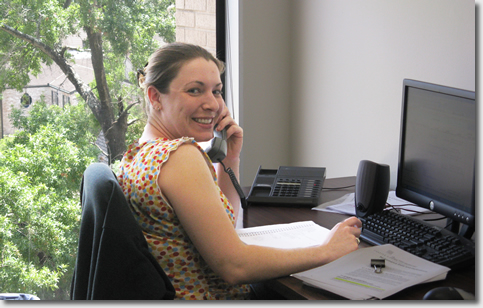 UTCM Graduate Assistant Angie Lehnert interviewing project managers
For Linda Cherrington's project reviewing mass transit funding (see article below), Angie identified the sources of local funding for transit agencies nationwide by researching internet reports and budgets for each agency. Angie has also completed several courses in the transportation planning certificate program developed with UTCM funding.
"My work on UTCM projects and in UTCM supported courses has honed my research, communication and writing skills," says Angie. And I've already developed numerous contacts in the transportation industry that will help me network professionally."
When she's not too busy on her research, Angie enjoys Netflix, knitting, roller skating and her favorite Indian dish, saag paneer.
[ Top ]
SPOTLIGHT ON RESEARCH:
Technology to Improme Border Crossing Efficiency
Project Title: "Expansion of the Border Crossing Information System"
Principal Investigators: Juan Villa, Research Scientist, System Planning, Policy and Environment Research Group, Economics, Trade and Logistics Program, TTI
Rafael Aldrete-Sanchez, PhD, PE, Research Engineer, Research and Implementation, TTI El Paso Office
UTCM Researcher
Juan Villa
For travelers and commercial freight operators, having access to real time border crossing information is key to managing trip times. Similarly, archived border crossing information is an important tool for planners, researchers and decision-makers in designing efficient border crossings. Yet no efficient system exists for measuring, reporting and archiving border crossing data.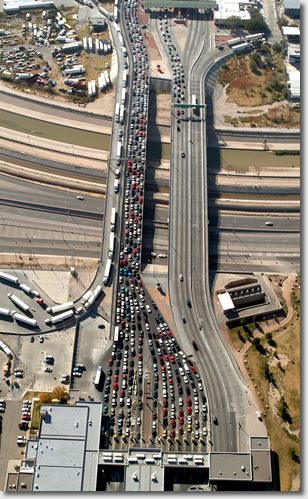 This view of the Bridge of the Americas in El Paso shows typically long queues of passenger and commercial vehicles entering the U.S. from Mexico.
With funding from the UTCM, Research Scientist Juan Villa, Dr. Rafael Aldrete-Sanchez, Dr. Rajat Rajbhandari and their TTI research team are filling this void, developing a comprehensive Border Crossing Information System (BCIS) using El Paso's existing system – Paso Del Norte Regional Mobility Information System (PDN-RMIS) – as a platform. Villa learned from stakeholders that having roadway data on either side of the border is as important as knowing what is happening at the border. As a result, Dr. Rajbhandari developed a "single-window" summary to provide pre-trip data for the border along with the surrounding roadway network.
The team then assembled a comprehensive archive of border crossing data, including passenger and commercial vehicle volumes, trade volumes, border wait times, currency exchange rates and other data. This archive was combined with real time regional mobility data in a common web portal.
In future work, Villa plans to demonstrate the BCIS prototype to stakeholders, incorporate feedback and develop the system into a fully operational BCIS for commercial use.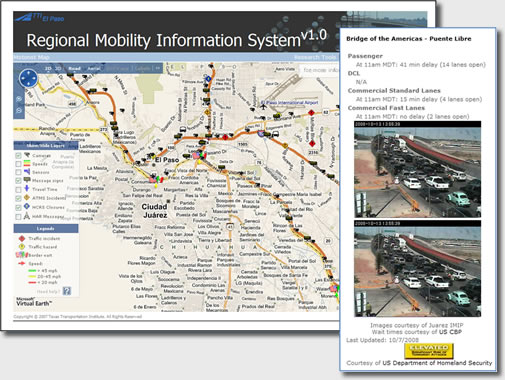 "Single window" on the prototype system gives pre-trip information at the border as well as in the
surrounding transportation network.
This research project involves the collaborative efforts of:

[ Top ]
SPOTLIGHT ON TECHNOLOGY TRANSFER:
Innovative Funding for Mass Transit
UTCM Researcher
Linda Cherrington
Project Title: "Nationwide Examples of State and Local Funds for Mass Transit "
Principal Investigator: Linda Cherrington, Program Manager and Research Scientist, System Planning, Policy and Environment Research Group, Transit Mobility Program, TTI Houston Office

One of the transportation challenges facing Texas is the identification of adequate funding for mobility projects. During the 80th Texas Legislature, several proposals were made to address mass transit funding for the metropolitan areas of the state.
Faced with judging the merits of these proposals, the chairman of the Texas Senate Committee on Transportation and Homeland Security recognized the need for more information on this topic. He therefore requested that Texas Transportation Institute update previous research on national examples for funding regional transit and provide additional information on regional rail projects. UTCM funded this research in 2008, with Linda Cherrington as PI.
Cherrington's research documents 56 existing mass transit and regional rail systems in 32 metropolitan areas across the US. Data reported for each system include history, governance, funding, capital costs, service statistics and operating costs.
Cherrington was invited to give a briefing to the Texas Senate Committee on Transportation and Homeland Security on January 28, 2009, sharing results of her project. The briefing was well attended and her testimony was met with great interest; Cherrington received immediate response by several committee members and staff for more information and copies of the project's final report.
Cherrington's UTCM research findings provide the critical information sought by members of the Senate Committee for decisions they face in funding mass transit in Texas.
The final report on Linda Cherrington's project "Nationwide Examples of State and Local Funds for Mass Transit" can be accessed on the menu at top left under Projects: Completed Projects.

This technology transfer project involves the collaborative efforts of:

[ Top ]
UTCM to Host Symposium

UTCM will co-sponsor a symposium to bring together professionals in the field of road user fees to share information and advance the discussion of user-based fees as a potential replacement for the fuel tax. Representatives from past, current and upcoming pilot studies and implementations will present lessons learned and key study topics from their projects. Panel discussions will address specific topics such as legislative and policy issues, public acceptance challenges, potential technology applications, and institutional issues. The symposium will incorporate interactive discussion sessions on logical next steps as well as the associated challenges and opportunities.
For information and registration, visit the symposium website at:
This technology transfer project involves the collaborative efforts of:

[ Top ]
Mobility Colloquium Begins Its Second Year
Kicking off the second year of our successful Mobility Colloquium series, the UTCM hosted two colloquia in the Fall of 2008: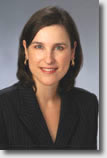 Dr. Melissa Tooley
Center Director
09.04.2008
"Secrets to Success: How to Submit a UTCM Proposal"
Melissa S. Tooley, PhD, PE
Director, UTCM
UTCM Director Melissa Tooley reviewed the UTCM's FY09 Request for Preliminary Proposals, offered tips for submitting winning UTCM Preliminary Proposals and answered audience questions.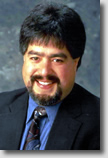 Dr. Jorge Vanegas
09.29.2008
"Transportation and Mobility in Architecture: Research Challenges and Opportunities"
Jorge Vanegas, PhD
Interim Dean, College of Architecture
Director, Center for Housing and Urban Development (CHUD)
Professor, Department of Architecture
Dr. Vanegas summarized the connections between architecture and transportation: "From urban planning and design through transportation infrastructure to individual facilities, mobility is a common thread." He urged researchers and students to explore the numerous research opportunities that are available linking architecture, transportation and people within the context of the built environment.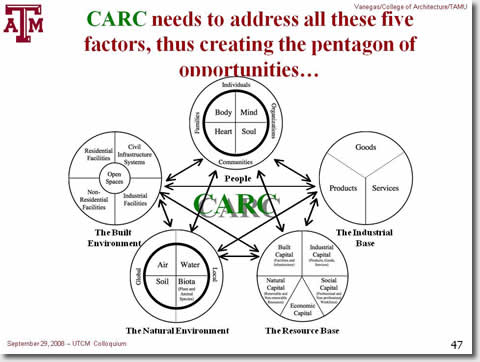 Slide from Dr. Vanageas' talk emphasizing the linkages between systems that create research opportunities.
[ Top ]
Completed UTCM Projects
More information and final reports on these and other completed projects can be found on the menu at top left under Projects: Completed Projects.
RESEARCH
"Impact of Reconstruction Strategies on System's Performance Measures: Maximizing Safety and Mobility While Minimizing Life-Cycle Costs"
I. Damnjanovic, A. Wimsatt, S. Butenko • 9/1/07 - 10/31/08
"Improving Mobility Data and Benefit Estimation Procedures"
T. Lomax, S. Turner, D. Schrank, W. Eisele, D. Ellis • 1/1/08 - 11/30/08
"Feasibility of Mileage-Based User Fees: Application in Rural/Small Urban Areas of Northeast Texas"
G. Goodin • 2/1/08 - 11/30/08
"A New Systems Approach to Risk Reduction and Hazard Mitigation of Transportation Infrastructure Networks Subject to Multiple Hazards"
M. Sanchez-Silva, D. Rosowsky •1/1/08 - 12/31/08
"Transit Services for Sprawling Areas with Relatively Low Demand Density: A Pilot Study in the Texas Border's Colonias"
L. Quadrifoglio • 9/1/07 - 1/15/09
EDUCATION
"Graduate Certificate in Transportation Planning"
F. Ndubisi • 9/1/07 - 9/15/08
"A Special Topics Course on Intelligent Transportation Systems for the Zachry Department of Civil Engineering of Texas A&M University"
K. Balke, G. Hawkins • 1/1/08 - 12/31/08
TECHNOLOGY TRANSFER
"Regional Coordination Workshop"
J. Overman, L. Cherrington, J. Arndt, S. Edrington, R. Taylor, L. Higgins, C. Lewis, G. Goodin • 1/1/08 - 8/31/08
"Nationwide Examples of State and Local Funds for Mass Transit"
L. Cherrington • 3/1/08 - 8/31/08
[ Top ]