Technology Transfer (T2) News
UTCM Project Earns International Award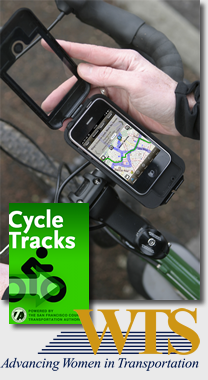 A collaborative UTCM project headed by TTI's Joan Hudson and UT's Jennifer Duthie is using a commerically available smartphone ap to track volunteer subjects' bike routes for use in planning better urban bicycle routes. The project was recognized regionally and internationally as an Innovative Solution by the Women's Transportation Seminar.
In May, a UTCM project designed to improve community bicycle facilities was awarded the Women's Transportation Seminar (WTS) International 2011 Innovative Solutions Award at the organization's annual conference in Denver.
The project is under the direction of Joan Hudson, Associate Research Engineer in Mobility Management at TTI-Austin and co-PI Jennifer Duthie, Research Associate at the University of Texas Center for Transportation Research. "Using Smartphones to Collect Bicycle Travel Data in Texas" was first honored with the WTS Heart of Texas (HOT) Chapter's Innovative Transportation Solutions Award at its Awards and Scholarship Gala March 30 in Austin. International winners are selected from the many local chapter awards winners.
"This was an unexpected honor locally, but to win on the international level as well was especially exciting," says Hudson. "We teamed up with the Center for Transportation Research at The University of Texas for this project, and that was very rewarding."
Using volunteers from the Austin biking community, the project is testing the effectiveness of a smartphone application known as Cycle Tracks as a means to collect data for community planning purposes. A total of 3,000 bicycle trips were logged by participants. The project's findings due in July will report if the data collection method will be useful for communities wanting to improve bicycle facilities.
03.31.12
UTCM PI Earns Woman of the Year Award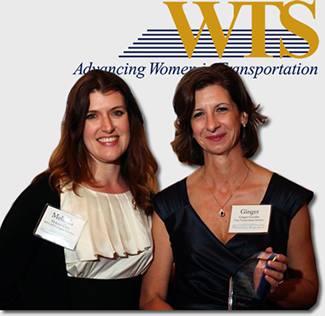 Ginger Goodin, right, receives the 2011 Woman of the Year Award from Women's Transportation Seminar Heart of Texas Chapter President Melinda Clary.
At its fundraising and awards gala in March, the Heart of Texas Chapter of Women's Transportation Seminar honored TTI Senior Research Engineer and UTCM Researcher Ginger Goodin as its 2011 Woman of the Year. Goodin is TTI's Planning and Environment Division Head, as well as leader of the Institute's Austin Office. The award "honors a woman who is an outstanding role model and has contributed to the advancement of women and minorities in transportation."
"I'm very humbled to have been selected for this award," Goodin says. "The women recognized in the past are community leaders, women I look up to. To be included in the company of such an elite group is a huge honor for me."
A graduate of the 2010 Leadership Texas program, Goodin is nationally known for her UTCM-funded research on mileage-based user fees and as an expert on managed lanes. She often testifies before the Texas State Legislature on important technical transportation issues. Goodin is the TTI-Austin lead for the Mobility Investment Priorities Study, which is helping the region prioritize projects to pursue using the area's share of $300 million in funding allocated by the Texas Legislature in 2011.