Our Most Recent Colloquium
Some documents are made available in PDF format. You will need Adobe Reader to view them.

If you would like to be notified of future Mobility Colloquia, please contact us.
Colloquium Info and handouts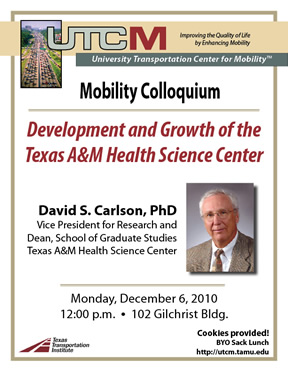 Synopsis
by Rick Davenport, TTI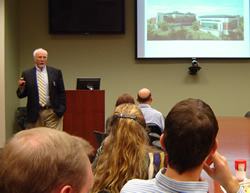 Employees had the opportunity to learn about — and consider potential collaborations with — the Texas A&M Health Science Center during the latest Mobility Colloquium in December. The event was organized by the Institute's University Transportation Center for Mobility (UTCM).
"The Health Science Center [HSC] is an influential presence at A&M," UTCM Director Melissa Tooley said following the presentation entitled Development and Growth of the Texas A&M Health Science Center, held Dec. 6.
"While TTI's Center for Transportation Safety has been involved in collaborative research with the School of Rural Public Health for a quite a while, the discussion at the Colloquium revealed several additional research areas of common interest. The presentation by Dr. [David] Carlson was a great chance for us to learn more about what the Health Science Center and its various programs do," Tooley said.
Carlson, the HSC's vice president for research, spent the majority of his presentation describing the center's massive expansion at its new location in Bryan on Texas 47, where numerous structures have been built or are under construction. Carlson said the site will be home to an academic campus, a research park, housing, a clinical facility and, if a potential partner is identified, a future hospital.
"Obviously, this is not the time to be building a new campus," Carlson said, pointing to the economic downturn. "However, virtually all the buildings under construction have been requested by the state legislature."
Carlson urged TTI employees to contact the Center to discuss ideas for possible collaborations.
Presenter Bio
David S. Carlson, PhD
Dr. David S. Carlson received his doctoral degree in biological anthropology from the University of Massachusetts (1974) and completed postdoctoral training in developmental biology and craniofacial anomalies at the University of Michigan.  He joined the faculty of the University of Michigan in 1978, where he advanced through the academic ranks to become professor in the Department of Anatomy & Cell Biology (School of Medicine), professor in the Department of Orthodontics & Pediatric Dentistry (School of Dentistry), and research scientist in the Center for Human Growth and Development. 
Dr. Carlson moved to Baylor College of Dentistry, Texas A&M University System Health Science Center, in 1993 as chairman of the Department of Biomedical Sciences and also became the inaugural Robert E. Gaylord Endowed Chair of Orthodontics.  In 1999 Dr. Carlson also assumed the role of Associate Dean for Research and Advanced Education.  In 2002 Dr. Carlson received the Regent's Professor Award from the Texas A&M University System.  Dr. Carlson became Vice President for Research and Graduate Studies of the Texas A&M University System Health Science Center in 2003.  He is now Vice President for Research for the HSC and Dean of the HSC School of Graduate Studies.
Dr. Carlson has served on several regular and Special Study Sections for the National Institutes of Health, and has maintained funding from NIH from 1975 as Principal Investigator on 16 NIH grants and Co-Investigator on numerous others. In addition to his research grants, while at the University of Michigan and Baylor College of Dentistry Dr. Carlson was Principal Investigator of three NIH Institutional Training Grants (T32 and T35) an NIH U24 institutional research enhancement grant.
Dr. Carlson's research interests on the development, growth, and adaptation of the craniofacial complex have resulted in over 200 scientific publications, including over 100 peer-reviewed papers and 13 edited books bridging basic biomedical sciences and clinical treatment of craniofacial deformities.
[ Top ]